I don't usually make the trendy foods on time, but these mini pancakes are just too good to pass up! They are so fun to make with your family, and I bet you have all the ingredients in your pantry. I wanted to make these festive with Independence day coming up so added cocoa and red food coloring to make Red Velvet Mini Pancakes!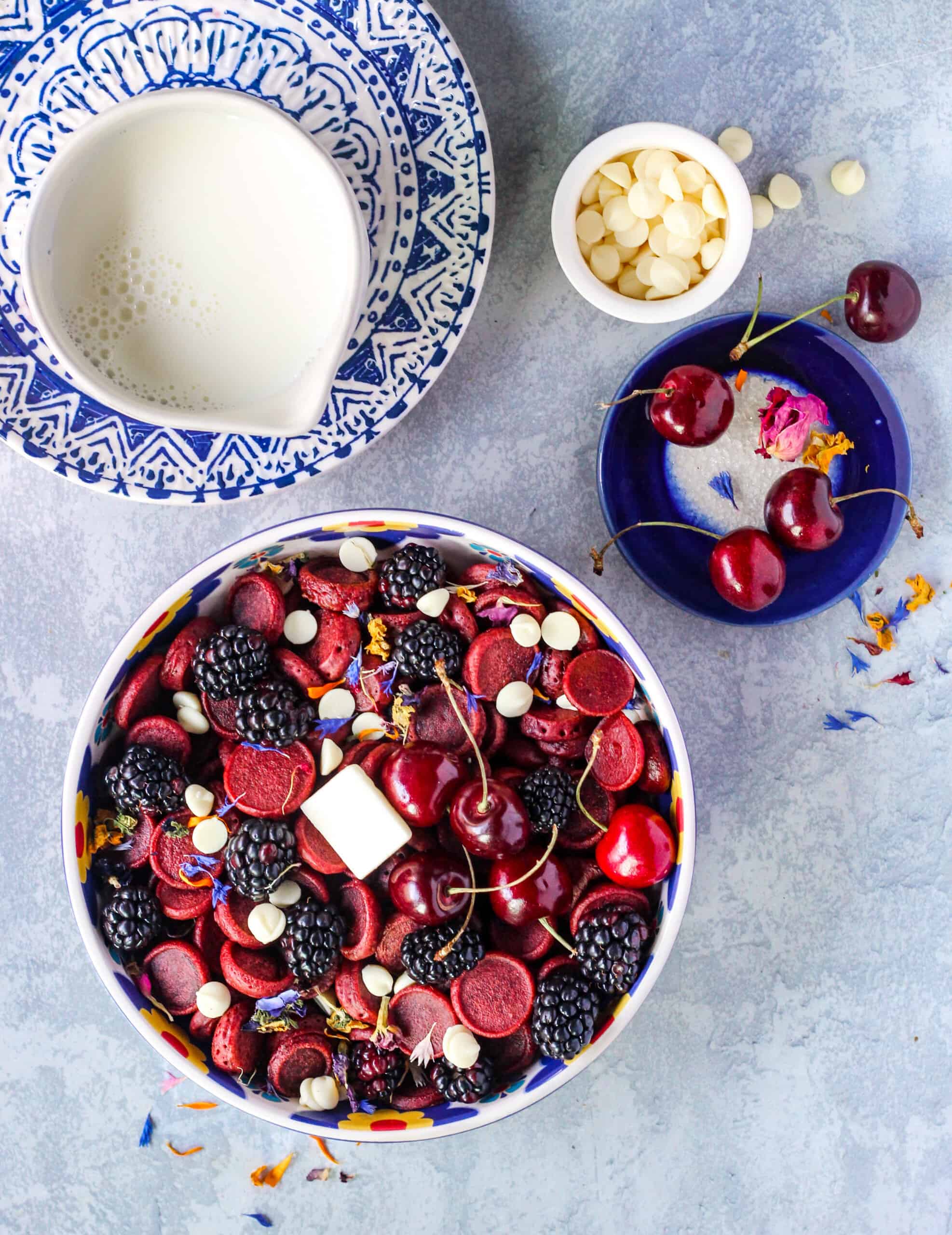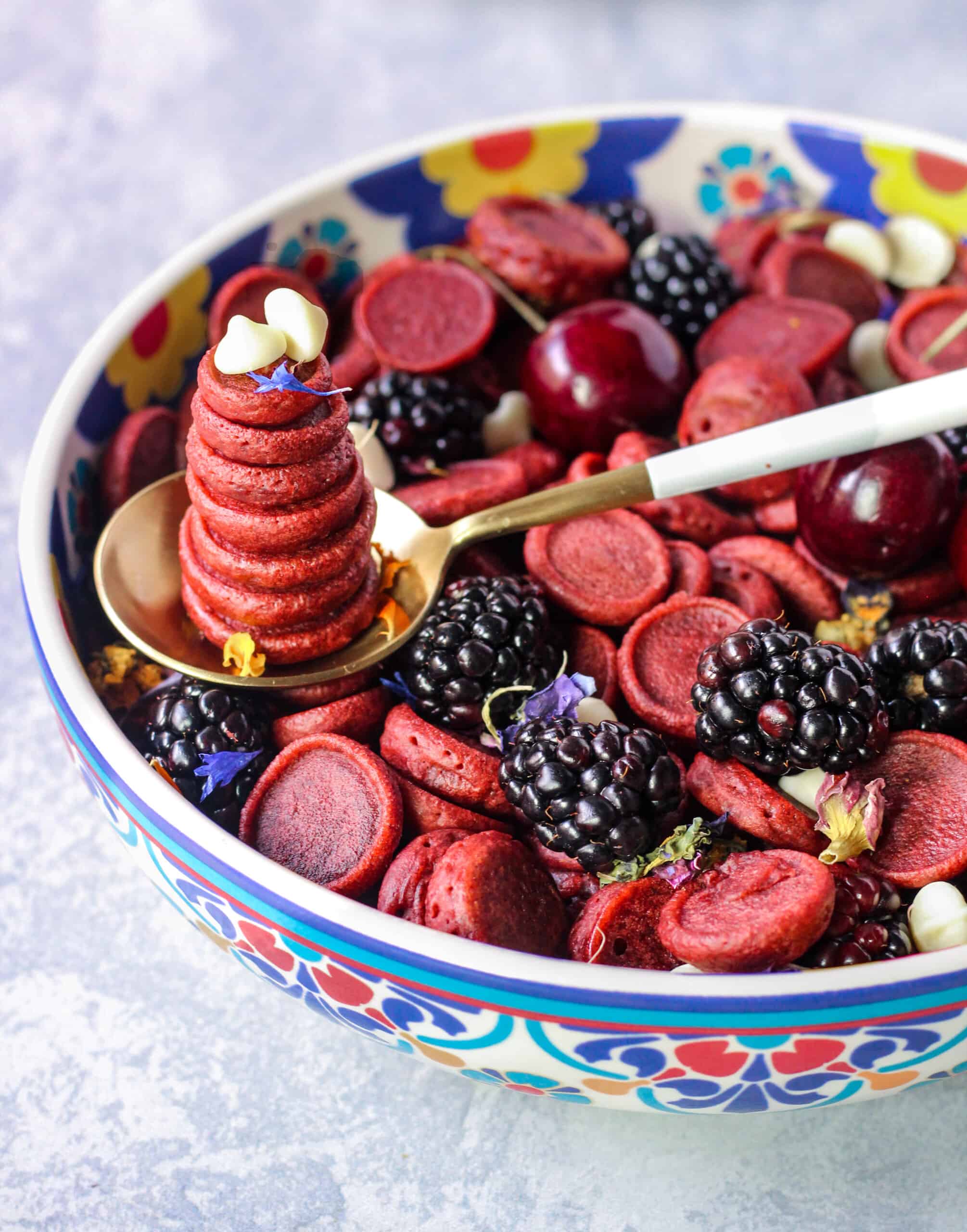 Just look at how cute these pancakes are! You can substitute the all-purpose flour for a gluten-free version, but the batter for these pancakes is vegan. I chose to make a vegan batter because I knew that my son would want to lend a helping hand, and when that happens a lot of raw batter gets eaten! It's just one less thing to worry about when you have kids in the kitchen. If you don't have gel food color then you can use double the amount of regular food coloring to give the same deep red hue to your batter.
I ordered some squeeze bottles off of Amazon to get the size of the pancakes just right, but you can use a piping bag with a small tip or a fill a zip top bag to get these pancakes going quickly. Just make sure not to cut too much of the corner off. Mini pancakes cook up SO fast, so I suggest keeping your griddle or non-stick skillet on medium-low to make sure they don't burn. I liked using the back of a small spatula and butter knife to flip them, but chopsticks also work!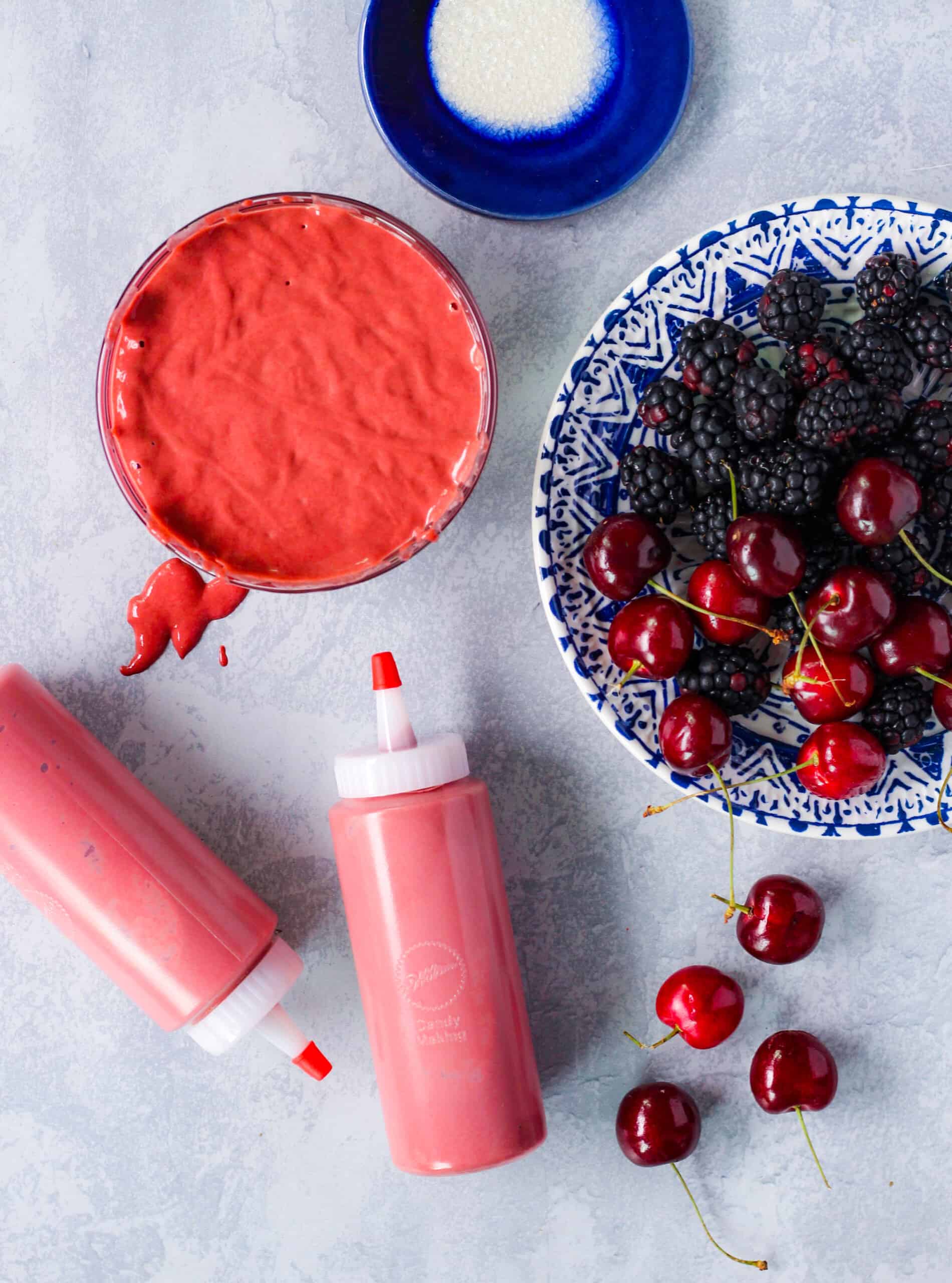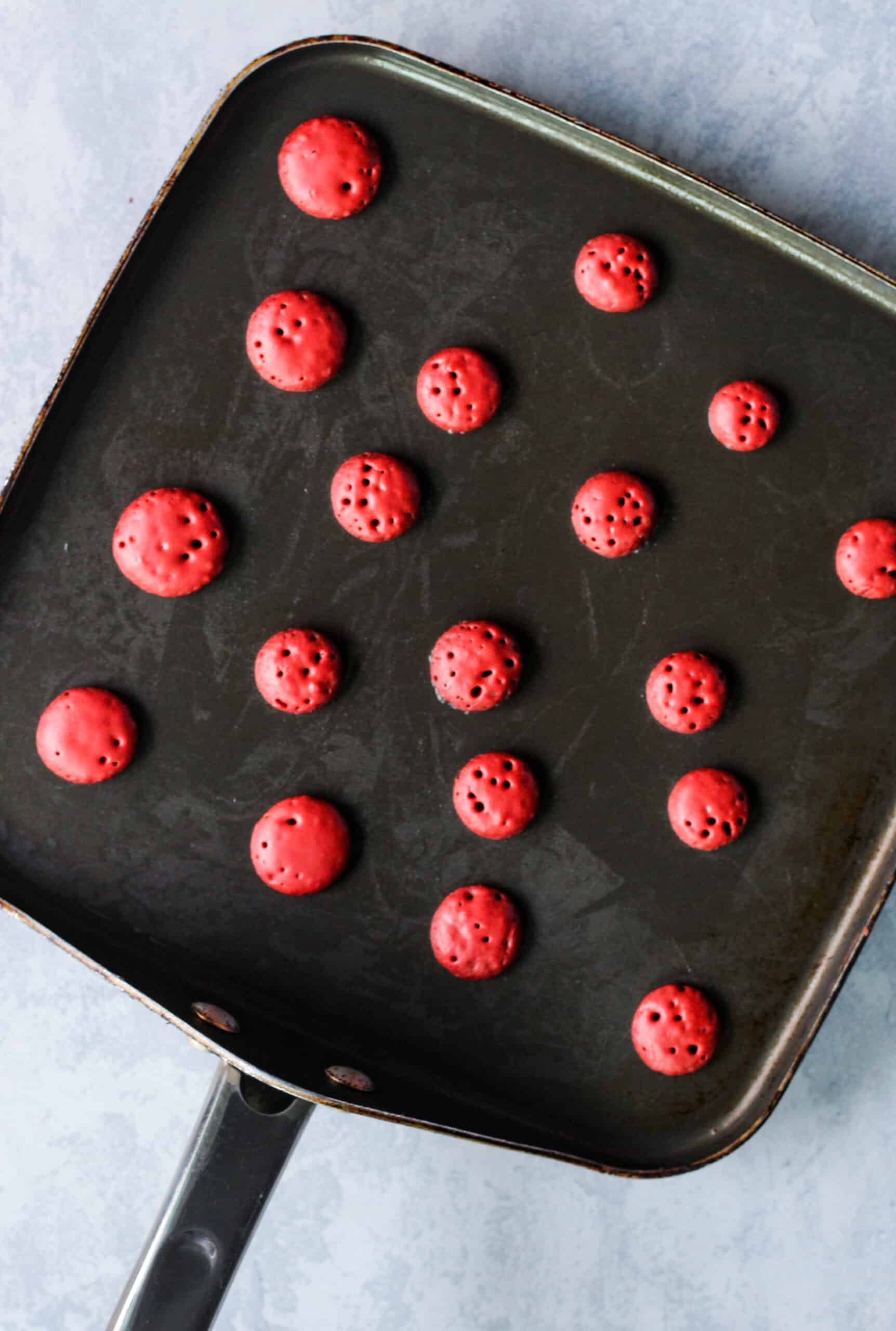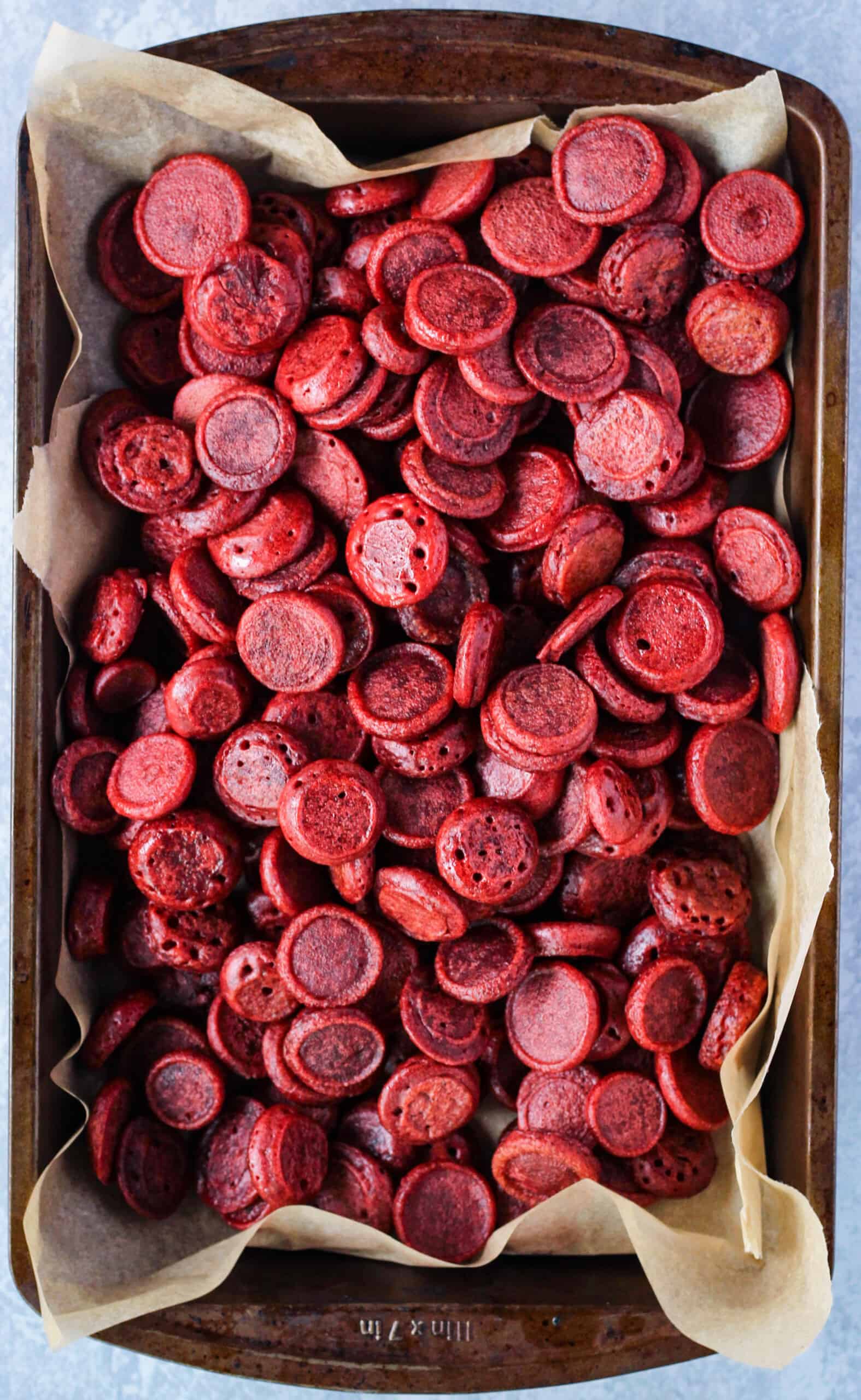 Vegan Red Velvet Pancake Cereal
Mini pancakes made with homemade vegan red velvet batter.
Ingredients
1 and 1/2

cups

all-purpose flour

1 and 1/4

cups

dairy free milk

almond or soy work well

1

tbsp

unsweetened cocoa powder

3

tbsp

sugar

1 and 1/2

tsp

baking powder

1/2

tsp

baking soda

1/2

tsp

salt

1

tsp

vanilla

2

tsp

apple cider vinegar

1

tsp

red gel food coloring

coconut oil for cooking
Instructions
Pour milk and apple cider vinegar in a large drinking glass or jar and set aside for 5 minutes to create a vegan buttermilk.

Whisk together the dry ingredients in a mixing bowl.

Add the vegan buttermilk and whisk until combined.

Now add the red food coloring and mix until fully incorporated to give a red batter.

Add a splash of milk if needed to ensure a smooth and pourable batter.

Carefully pour batter into a squeeze bottle or piping bag.

Heat a non-stick skillet or griddle to medium-low. Lightly grease with coconut oil.

Squeeze mini pancakes (about the size of a nickel) onto the hot surface of the skillet.

Let the pancakes cook for 30-45 seconds until small bubbles form on the top. Then flip and cook on the other side for another 30 seconds until the pancakes are cooked through.

Repeat with leftover batter.

Serve with milk, your favorite toppings, and syrup!
Notes
I found it easiest to use the back of a small spatula and butter knife to flip the pancakes. It also helps to not overcrowd the skillet.
Leftover batter can be stored in the fridge for up to 3 days. 
Leftover pancakes can be stored in an airtight container in the fridge for up to 3 days, and reheated before eating. 
Doubling the recipe to serve more people works well! 
The pancakes can be eaten on their own, with butter and syrup, or as cereal with some nice cold milk! We love fresh fruit in the mornings, and with cherries being in season we chose to have those and a few fresh blackberries with our mini pancakes. You can bet that my 4 year old was thrilled when he saw the white chocolate chips, and I couldn't resist because they were. perfect to keep with the red, white, and blue theme! Shredded coconut would also be delicious, and if you really want to get that traditional red velvet feel my suggestion would be to make a cream cheese glaze 😉 YUM! I hope you love this recipe. Please tag me with your Red Velvet Pancake Cereal photos!