Move over avocado toast…there's a new sheriff in town! Okay, enough with the corny jokes. Seriously though, this roasted beet toast with almond dukkah is just too good. I crave it way more than avocado toast, and I love avocado toast! I use really good quality bread for these toasts. Top the bread with a Greek yogurt and goat cheese spread, perfectly roasted beets, almond dukkah, fresh herbs, and honey.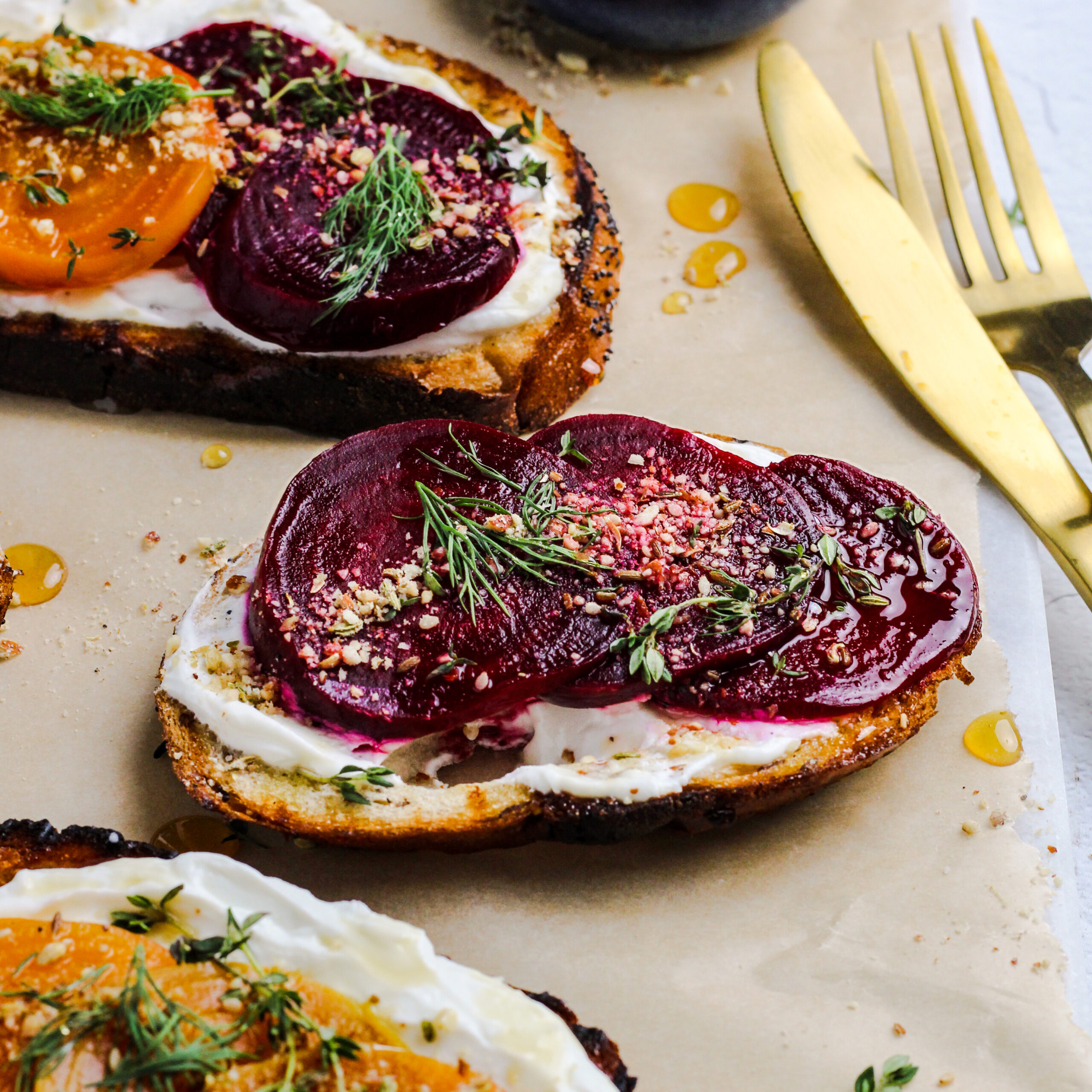 This crostini (or toast) makes for a really delicious lunch, light dinner, and a great app to serve guests. I love it for all seasons since beets are typically available year round, but it's the best from Summer to Fall when beets are at their peak. This recipe was posted on my Instagram back in January, and I held off on creating a post because I wanted different photos. Well, instead of getting six beets in my grocery order I received SIX POUNDS! The perfect excuse to make and photograph Roasted Beet Crostini with Almond Dukkah.
The Roasted Beets
Let's move on to these beets. I wasn't always a fan of beets, but about 10 years ago I had this beet salad from a restaurant here in Chicago called The Purple Pig. Their salt roasted beet salad with whipped goat cheese and crushed pistachios was delightful! I would get it every time I went there, and recommended to everyone else! I guess you can say this recipe is an ode to The Purple Pig.
Beets…yes, they are healthy! Beets are full of nutrients like folate, manganese, and iron. I love that they are great in savory dishes, but also work well in sweet dishes. You can use beets in smoothies, cakes, and even ice cream. Crazy, right!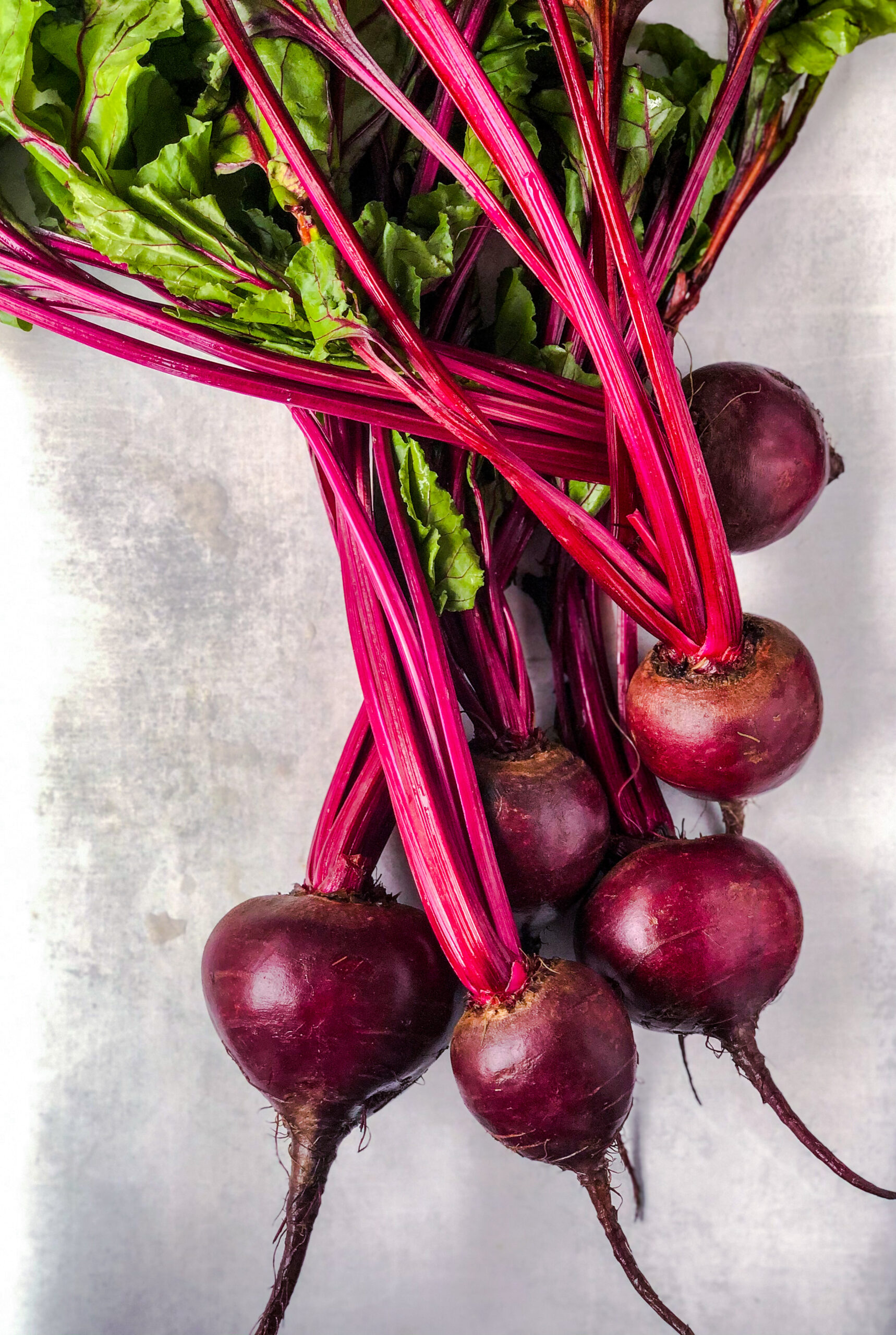 Oven or Instant Pot
For the most part I roast my beets in the oven. When I prepare them this way I like to peel the skins first. I find this method easiest, and not as messy. Wash the beets to get rid of any dirt, trim the roots and stems, then peel the skin using a vegetable peeler. Place the beets in a deep baking tray, toss them with salt and olive oil, then cover the tray tightly with foil. The beets will bake at 400 degrees for about 45 minutes. You can add herbs in with the beets if you'd like, but with this recipe it's not necessary.
You can also cook beets in the Instant Pot. If using a multi-cooker like the Instant Pot I don't peel the beets first, but I do wash them and trim the stems and roots. Depending on the size of your beets you will cook them on high pressure for 12-18 minutes (12 minutes for small beets, and 18 minutes for large beets). I use the trivet that comes with the Instant Pot to stack the beets, and add 1 cup of water to the steel liner. You can quick release the pressure after the Instant Pot beeps to indicate that it is done cooking the beets. Test the beets for doneness using a knife. They are done if the knife slides right in. If there is resistance, and the beets are not tender cook them for 2 minutes longer.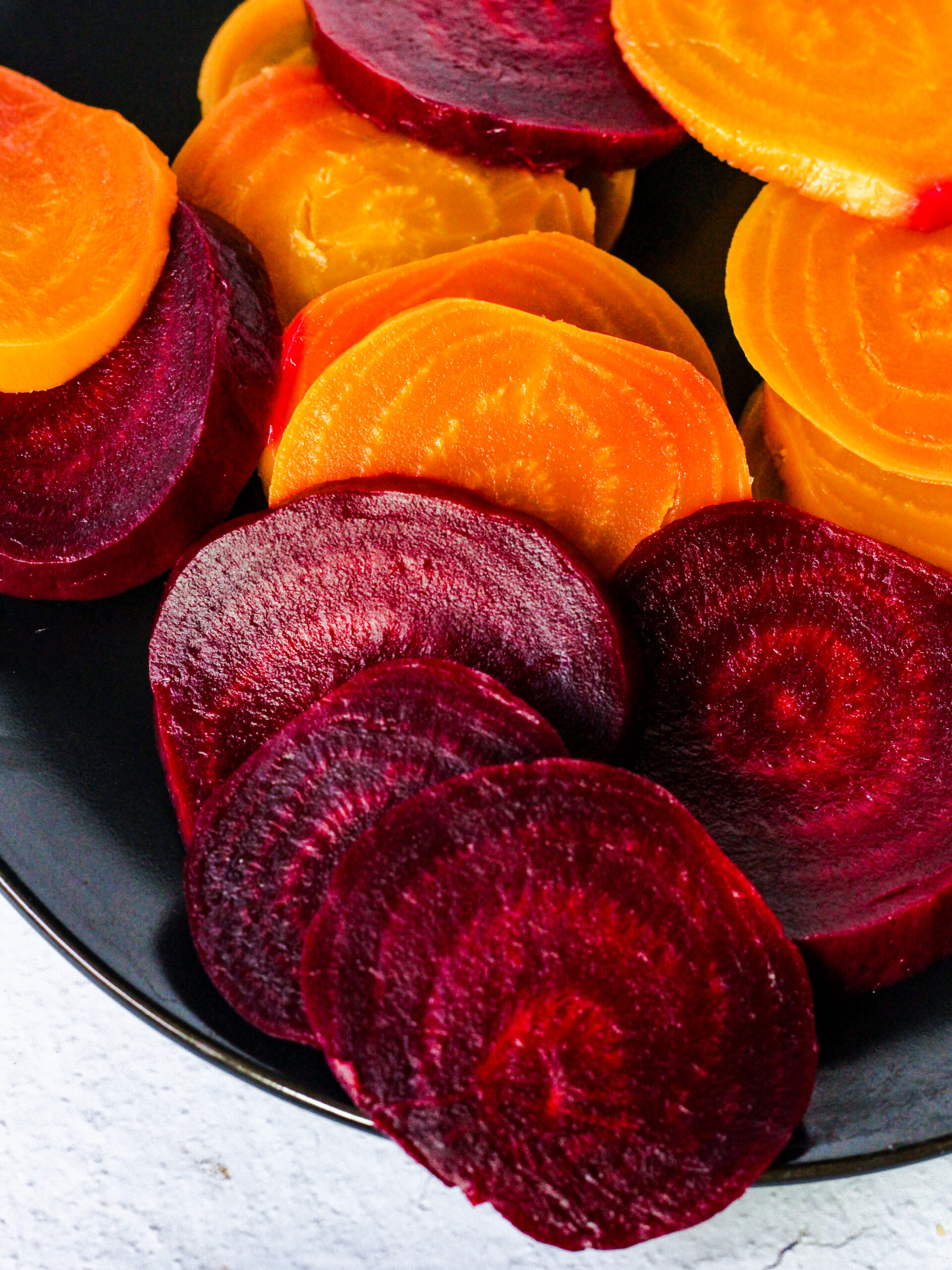 Beet Crostini with Almond Dukkah
Toasted whole grain bread topped with goat cheese spread, roasted beets, homemade almond dukkah, fresh herbs, and honey. A healthful lunch, light dinner, and delicious appetizer to serve year round.
Ingredients
1

lb.

fresh beets

1/2

cup

Greek yogurt

4

oz.

goat cheese

3

tbsp

honey

2

tbsp

fresh dill and thyme

for garnish

1

baguette (seeded or whole grain works well)

thinly sliced and toasted
Almond Dukkah
1/4

cup

raw almonds

1

tbsp

sesame seeds

2

tsp

coriander seed

1

tsp

cumin seed

1/2

tsp

fennel seed

1/2

tsp

course salt

1/4

tsp

black peppercorns or 15 grinds black pepper
Instructions
Preheat oven to 400 degrees.

Peel beets, and place in a deep baking tray and toss with about 1 tablespoon of olive oil and season with salt. Cover tray tightly with foil.

Bake for 45 minutes until tender. Once the beets are cool cut into 1/4 to 1/2 inch pieces or thinly slice.

While the beets are in the oven whisk together Greek yogurt and 3 oz. of goat cheese. Season with salt.

To make the almond dukkah place all ingredients except salt in a small saucepan or skillet. Lightly toast over low heat until you start to smell the nuts, seeds, and spices. This will take 2-3 minutes.

Once toasted let the ingredients for the dukkah cool. Then add to a blender or spice grinder with salt. Pulse a few times until you have a coarse mixture.

To assemble the crostini toast the slices of bread until golden. Next, spread a thin layer of goat cheese and yogurt mixture over toast. Top with beets, herbs, almond dukkah, and the rest of crumbled goat cheese. Drizzle with honey.
What is Dukkah?
Have you heard of dukkah? It definitely isn't as popular as let's say…everything bagel seasoning, but it packs a (flavor) punch! So what is it? Dukkah is a Middle Eastern condiment made from a mixture of herbs, nuts, seeds, and spices. Typically, dukkah is used as a dip with bread or fresh vegetables. I love how dukkah adds a warmth from the spices, and so much texture from the nuts and seeds. It's customizable too! I made my version of dukkah from thing ingredients I already had in my pantry so feel free to swap out a thing or two.