The ultimate comfort food: lasagna! Using pumpkin is so perfect for the Fall and Holiday season plus adds great nutritional value. Then you add fresh spinach and sausage which leaves you…winning! My pumpkin lasagna uses no-boil noodles, and I've split the layers up so that it comes together quickly! You can even prepare it the day before and bake it right before serving dinner.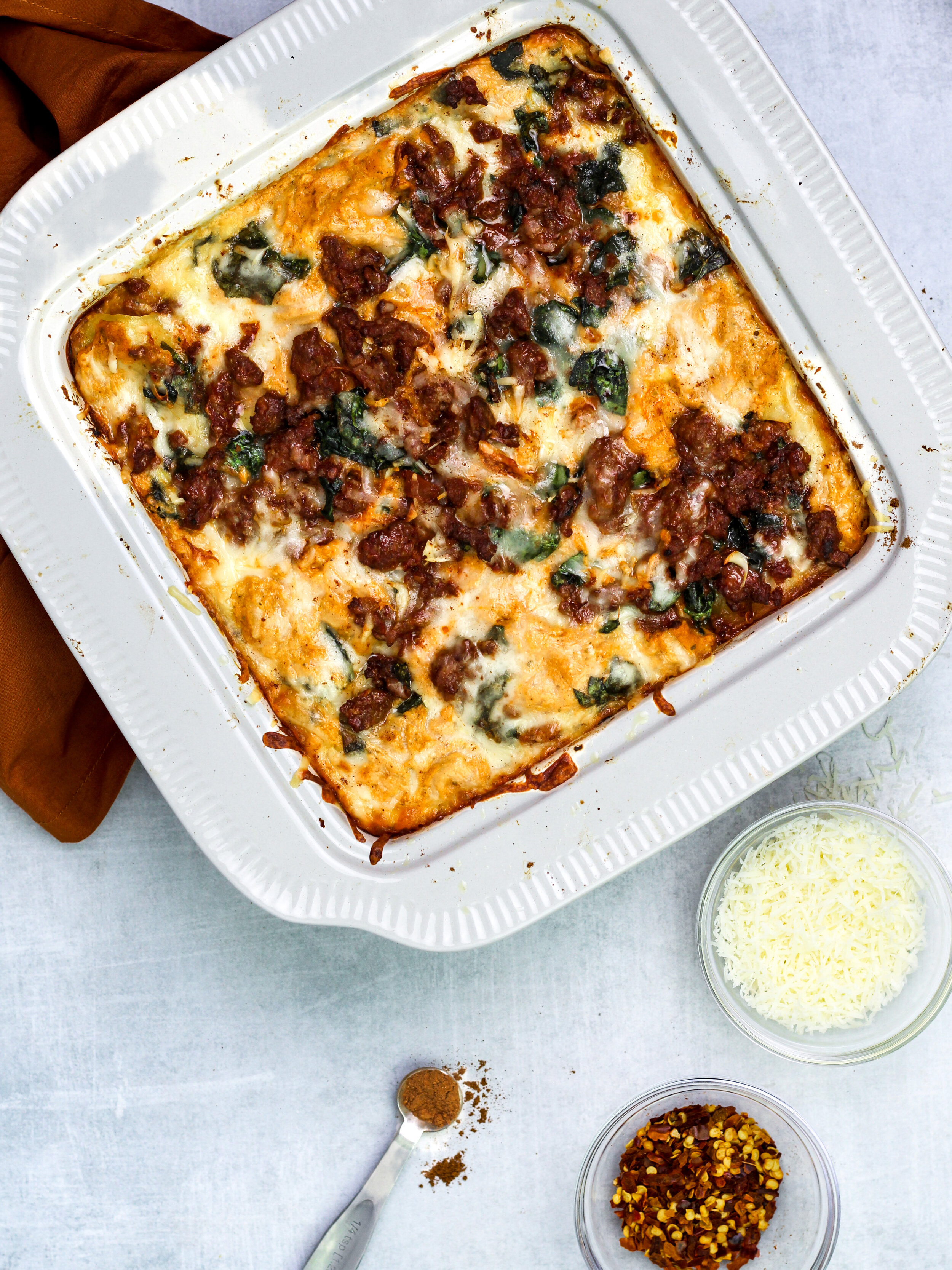 Pumpkin Lasagna with Spinach and Sausage
Ingredients
Lasagna
1

lb

sausage of choice

if using sausage links remove from casing

1

small onion

finely chopped

1

cup

crushed tomatoes

1

tsp

pumpkin pie spice

1

bag spinach

chopped

7 to 9

no-boil lasagna noodles

1

tbsp

oil
Pumpkin Ricotta Filling
1

can pumpkin puree

8

oz.

ricotta cheese

1/2 container

1

egg

beaten

1

cup

milk

only if using no-boil lasagna; see below

1/2

tsp

crushed red pepper pepper

1.5

tsp

pumpkin pie spice

1

tsp

Italian seasoning

1

tsp

salt

or to taste
Cheese Layer
2

cups

shredded mozzarella cheese

1

cup

grated parmesan cheese
Instructions
Preheat oven to ‪375 degrees. In one large bowl mix together ingredients for pumpkin ricotta filling, and in another bowl mix together shredded mozzarella and parmesan cheeses. Set aside.

Heat oil in a pan (cast iron or non-stick works best) then add chopped onions and sausage. Brown all the way through until you no longer see any pink in the sausage. When the sausage and onions are nice and caramelized add chopped spinach. Stir to combine and then remove from heat.

Lightly oil sides of a casserole dish. I used a 9×9 square dish. Place a spoonful of pumpkin ricotta filling in bottom of dish as the very first layer. Add a layer of lasagna noodles. My lasagna noodles were a little wider so I used two and a half sheets (they did not break evenly but I formed an even layer with the pieces).

Next, spread about 1/4 of your pumpkin ricotta filling evenly over the noodles. Then add 1/4 of browned sausage and spinach mixture, and cover that with 1/4 of the mozzarella and parmesan cheese mixture. Cover with another layer of lasagna noodles then pumpkin ricotta layer, sausage and spinach, followed by a layer of cheese. The final layer will be the mozzarella and parmesan cheeses. Cover dish with foil.

Bake at 375 degrees for approximately 35 minutes. Remove from oven, remove foil, and bake for 10-12 minutes until cheese is golden brown. Garnish with extra parmesan and or chopped parsley. Cool for 15 minutes before cutting and serving. Serves 6.
Notes
If you do not want to use no-boil lasagna noodles then prepare regular noodles as directed on package. Set them aside on an oiled baking tray until ready to use. You will not need to add milk to the pumpkin ricotta mixture if using regular lasagna noodles. The milk provides enough liquid for the no-boil lasagna to cook through.
Feel free to use any kind of sausage in this lasagna or substitute with a vegetable like mushrooms. You may also leave it out completely; the sausage layer will simply be a spinach layer.
If using pre-boiled lasagna noodles bake time will be less. Bake covered for 25 minutes and then uncovered for 10 minutes to brown the cheese.
If doubling the recipe use a wider dish (9×13").