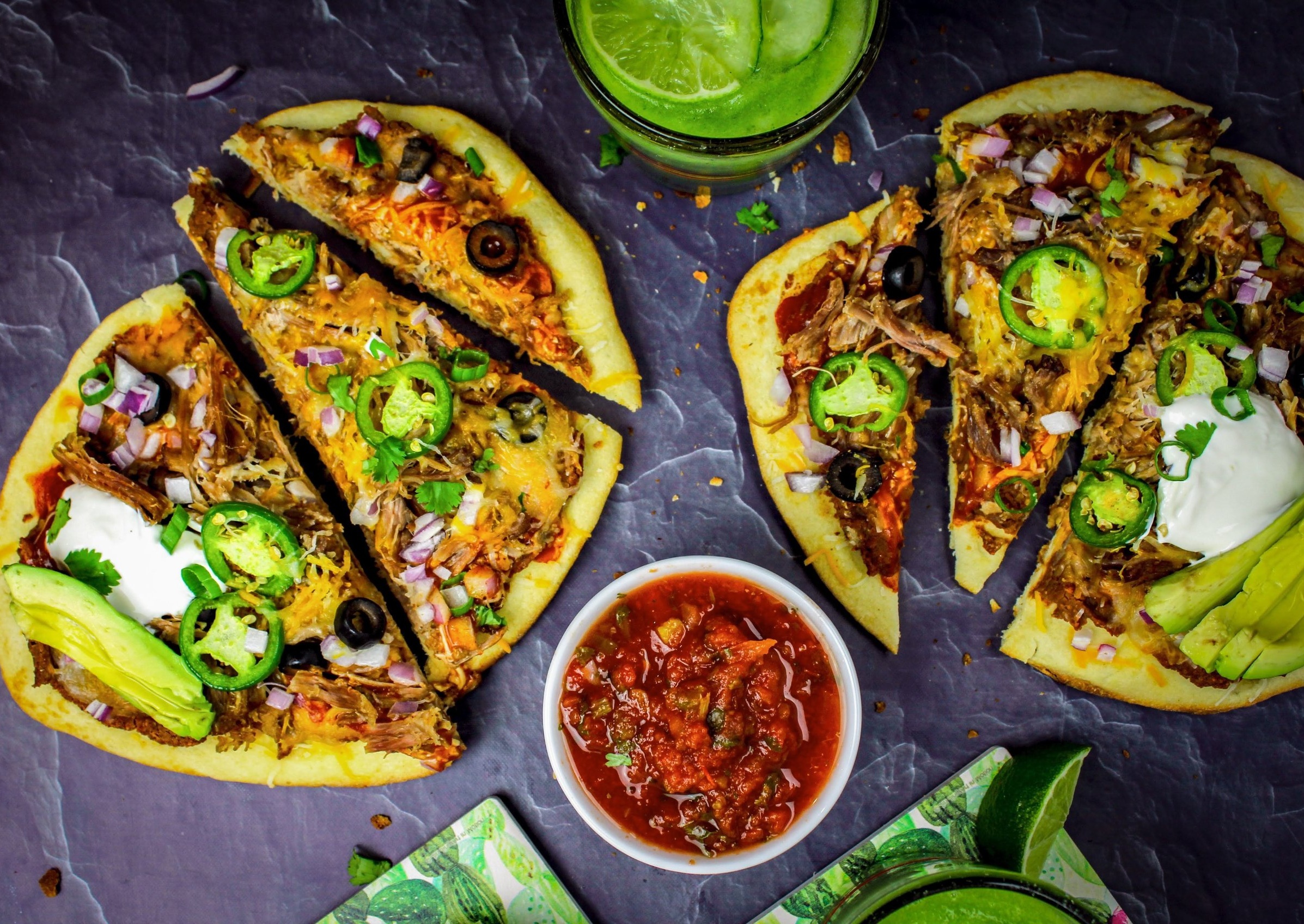 I while ago I posted this little mashup on Instagram: Carnitas Naan Pizzas that I made with almost everything that I got from a trip to Costco and you all loved it! As always, thank you for your kind words and support! Here are the details for these easy pizzas that can most definitely feed a crowd! When I first made them we had three kids in the house (two 9 year olds and one 3 year old plus Sushil and me) and everyone was stuffed and smiling. So great right!
So here is what I bought from Costco:
Naan (Stonefire mini naans, 18 ct.)

Pork Carnitas (Del Real, 2 pk.)

Taco Seasoning (Spice Islands, 24.5 oz.)

Salsa (Garden Fresh Gourmet Jack's Special, 48 oz.)

Avocados (6 ct.)
Here are some pantry/fridge items you may already have most of which are optional depending on what you want to top your pizzas with:
Cheese (Mexican blend)

Refried Beans

Sour Cream

Onion

Corn (defrosted if using frozen)

Olives

Fresh or Pickled Jalapenos

Cilantro

Green onion

Lettuce
To prepare your pizzas:
Preheat oven to 400 degrees. Place mini naans on a large baking tray and toast in the oven until the bottom is crispy (5-7 min).
While the naan is toasting place the refried beans in a bowl with 1 tablespoon of taco seasoning. Microwave for 30 seconds and stir to combine. Add more seasoning if you desire.
Prepare one packet of carnitas per manufacturer's directions, and set aside.
When naans are finished toasting remove them from the oven and top with pork, cheese, corn, onion, and olives. Place back into the oven until cheese is melted and edges of naan are brown. Top with sour cream, salsa, avocado, green onion, and cilantro as you wish!