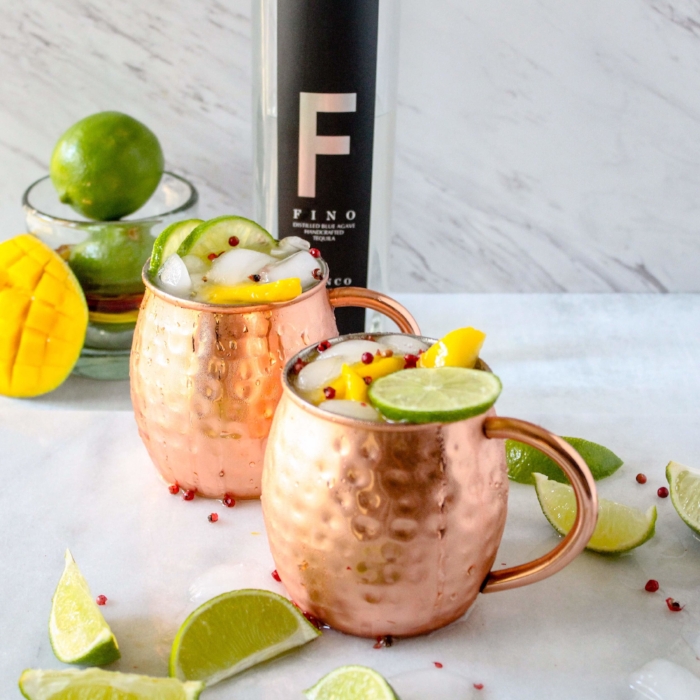 This year I've been obsessed with putting all the Summer fruit into my meals…and cocktails! The rotation has been watermelon, mango, cherries, peaches, etc. mixed with corn, zucchini, tomatoes, and fresh herbs. When I partnered up with Fino tequila I knew I wanted to make a drink with mango, but a spicy margarita sounded a little basic and I made a paloma not too long ago. I wanted something special for Fino with the bold, spicy flavors that I love. I played around with a few concoctions and landed on this Mexican Mango Mule. However, this is no ordinary Mule…instead of using ginger beer I used fresh ginger and floral pink peppercorns to make a simple syrup added that to a mango puree and a lot of fresh lime juice to make a sweet, spicy, bright, and delicious cocktail! I'm so obsessed with this flavor combination that some nights I skip the alcohol and make me a yummy flavored soda. It's really that good!
I am not an avid tequila drinker, but Fino blanco is so smooth that you can literally drink it out of the bottle. Or sip it chilled…that's probably a idea ;). The women who started Fino (Jana Iyer and Sonali Patel) know exactly what they are doing. If you want a small-batch tequila that is hand-crafted from the best blue agave in Mexico you have to try FINO!!!
Ingredients
2 oz Fino Blanco

2 tbsp mango puree

1 tbsp lime juice

2 tbsp ginger and pink peppercorn simple syrup

3 oz soda/sparking water
Ginger and Pink Peppercorn Simple Syrup
1 tbsp ginger, grated (approx. 2 inches)

1 tsp pink peppercorns

1/2 cup sugar

1/2 cup water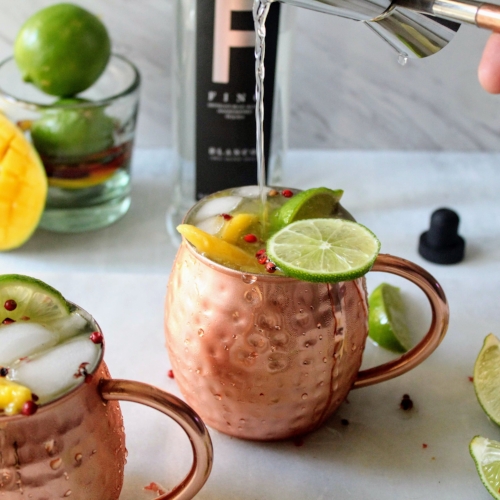 To make the ginger and pink peppercorn syrup bring water and sugar to a low boil. Stir in lightly crushed pink peppercorns and freshly grated ginger. Simmer for 5 minutes then remove from heat. Let cool, and strain into a glass jar. This simple syrup can be refrigerated for up to 10 days.
To make mango puree simply blend one cup of fresh mango or defrosted frozen mango in a blender until smooth. You can add a splash of water to help the mango blend easier.
Place tequila, lime juice, mango puree, and simple syrup in a copper mug with ice. Stir, and top with soda or sparkling water. If desired garnish with extra mango, peppercorns, and lime wedges. Enjoy!