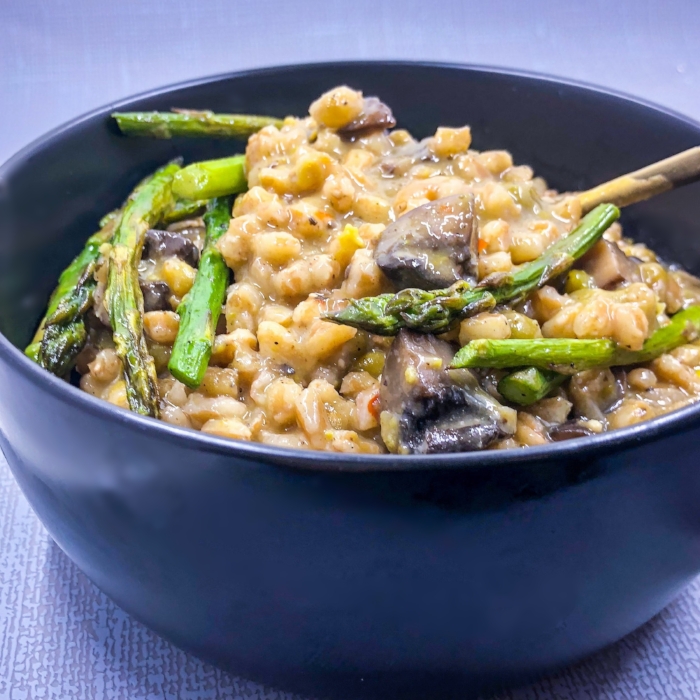 This is an updated version of my original mushroom "farrotto" recipe with peas, onions, and a little roasted asparagus on top. A great Spring-time recipe you can whip up in the Instant Pot on a busy weeknight! I added nutritional yeast to give a mild cheesy flavor, but feel free to add grated parmesan! Sub in the vegetables you like such as butternut squash,  tomatoes, corn, or brussels sprouts!
Ingredients
1.5 cup quick cooking farro

8 oz cremini mushrooms, washed and quartered

3/4 cup onion, chopped

2 tbsp unsalted butter

3 garlic cloves, crushed or minced

1 cup frozen peas

1 tsp dried Italian seasoning blend

1/2 tsp dried sage

1/2 tsp crushed red pepper flakes

1/2 tsp nutmeg

1.5 tsp salt

4 cups low-sodium broth

1 tbsp nutritional yeast (optional)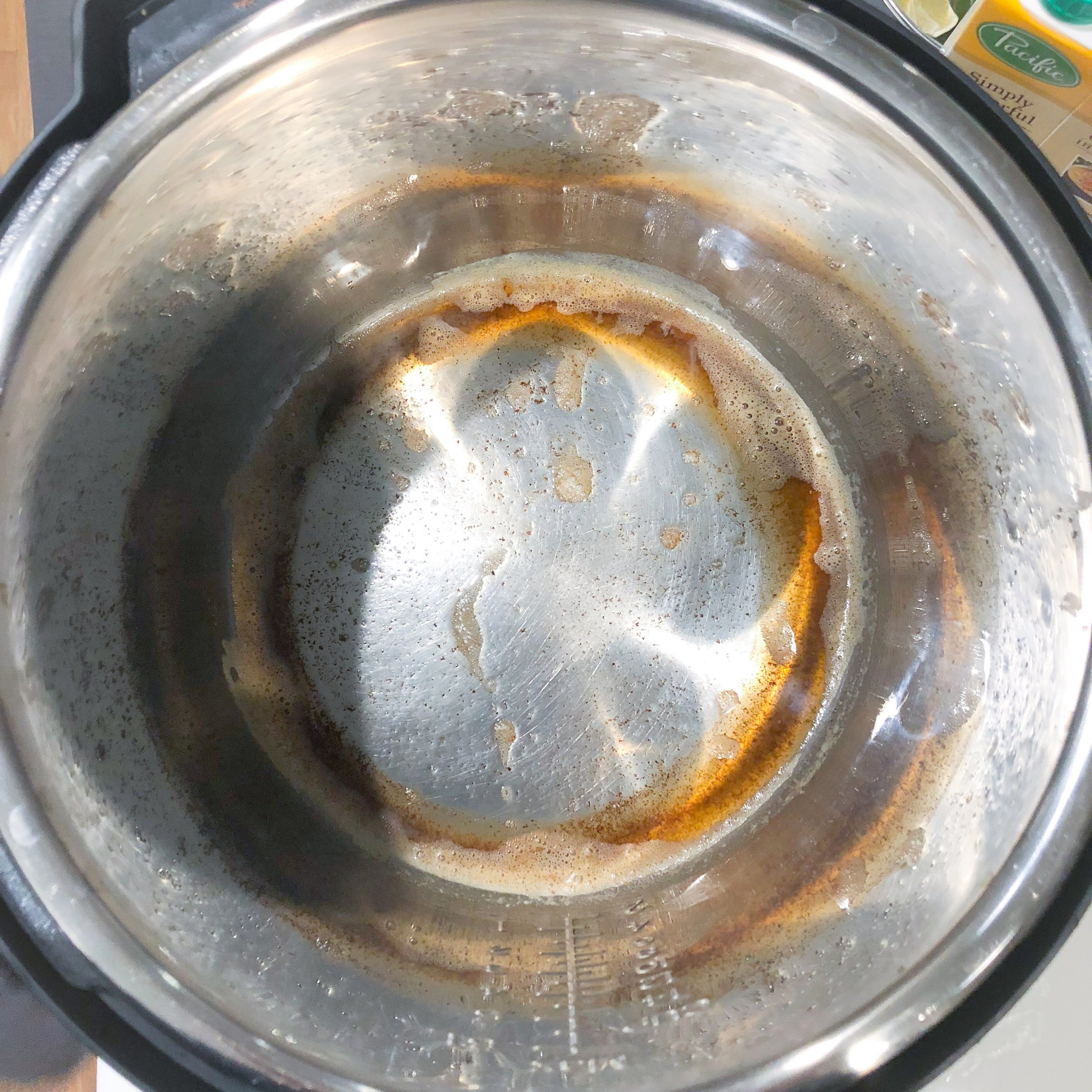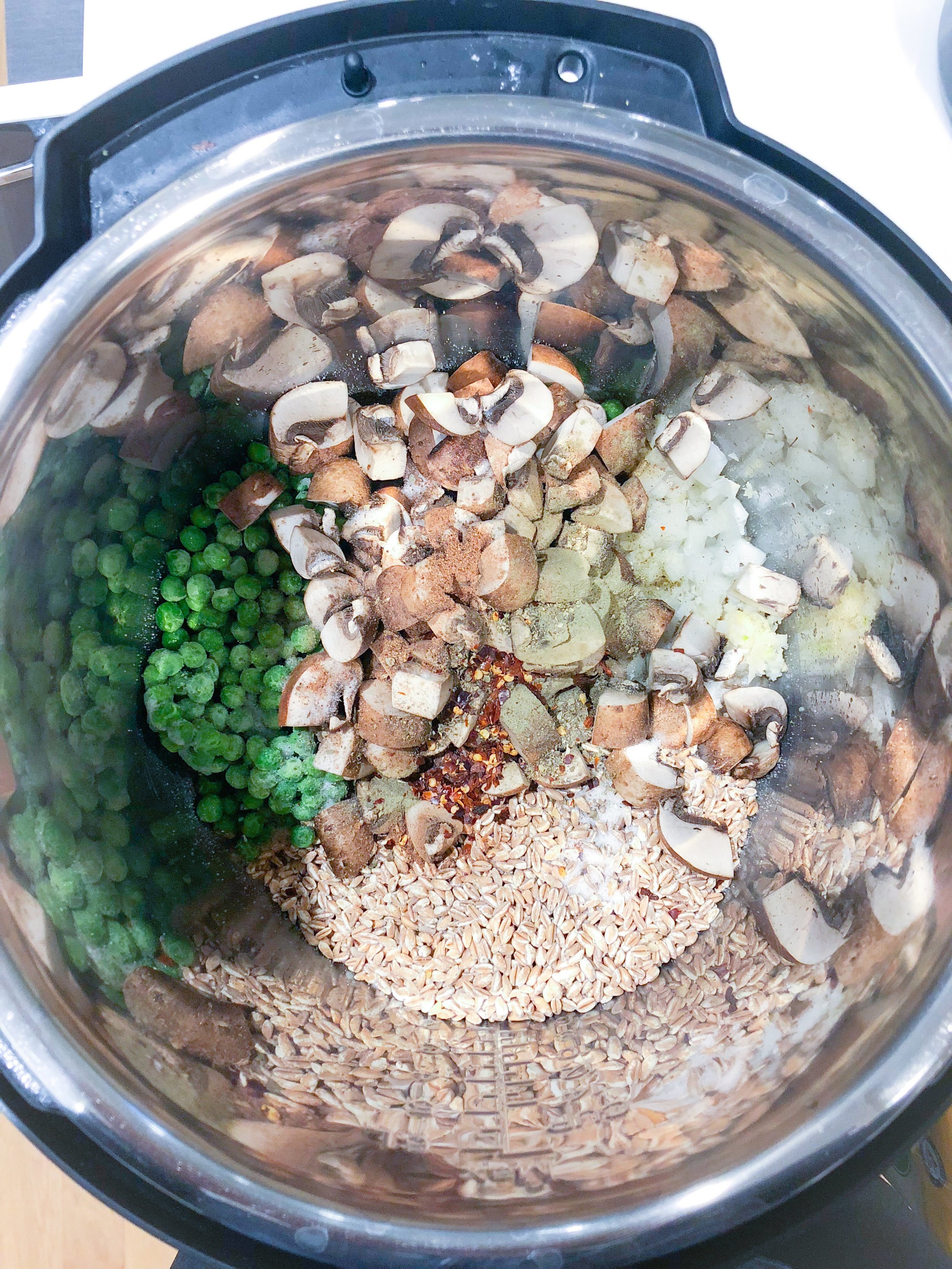 Turn Instant Pot to Saute mode, and melt butter.  After melted let butter foam, and brown. Stir to ensure it doesn't burn. After it has mostly stopped foaming, switch off Instant Pot. Add farro, onion, mushrooms, frozen peas, garlic, seasonings, and broth. Stir to combine then cook on high pressure for 20 minutes, then quick release. 
There may be some extra liquid so turn Instant Pot back on Saute mode and simmer until liquid cooks out and you reach your desired consistency for the farro risotto. Then add nutritional yeast and stir to combine. 
To make the asparagus preheat your oven to 425 degrees. Trim asparagus of fibrous ends. Place on a sheet pan, and toss with olive oil, salt, and pepper. Bake for approximately 15 minutes.