I have had this recipe for Everything Bagel Seasoning Crusted Tofu sitting in my drafts for over a year! Can you believe that? I guess I can because I abandon recipes all the time, but I am thrilled to get this one out to you. I made these lettuce wraps last year in June to promote Bessie Bakes Backdrops as Leslie was launching her new brand of photography backdrops (this is the "Chipped Paint" design), and I wanted to show off my favorite leafy greens- Gotham Greens!
This recipe is fantastic for a weeknight because there isn't too much to actually cook, Summer evenings because lettuce wraps are perfect for this heat, and seriously who doesn't love everything bagel seasoning!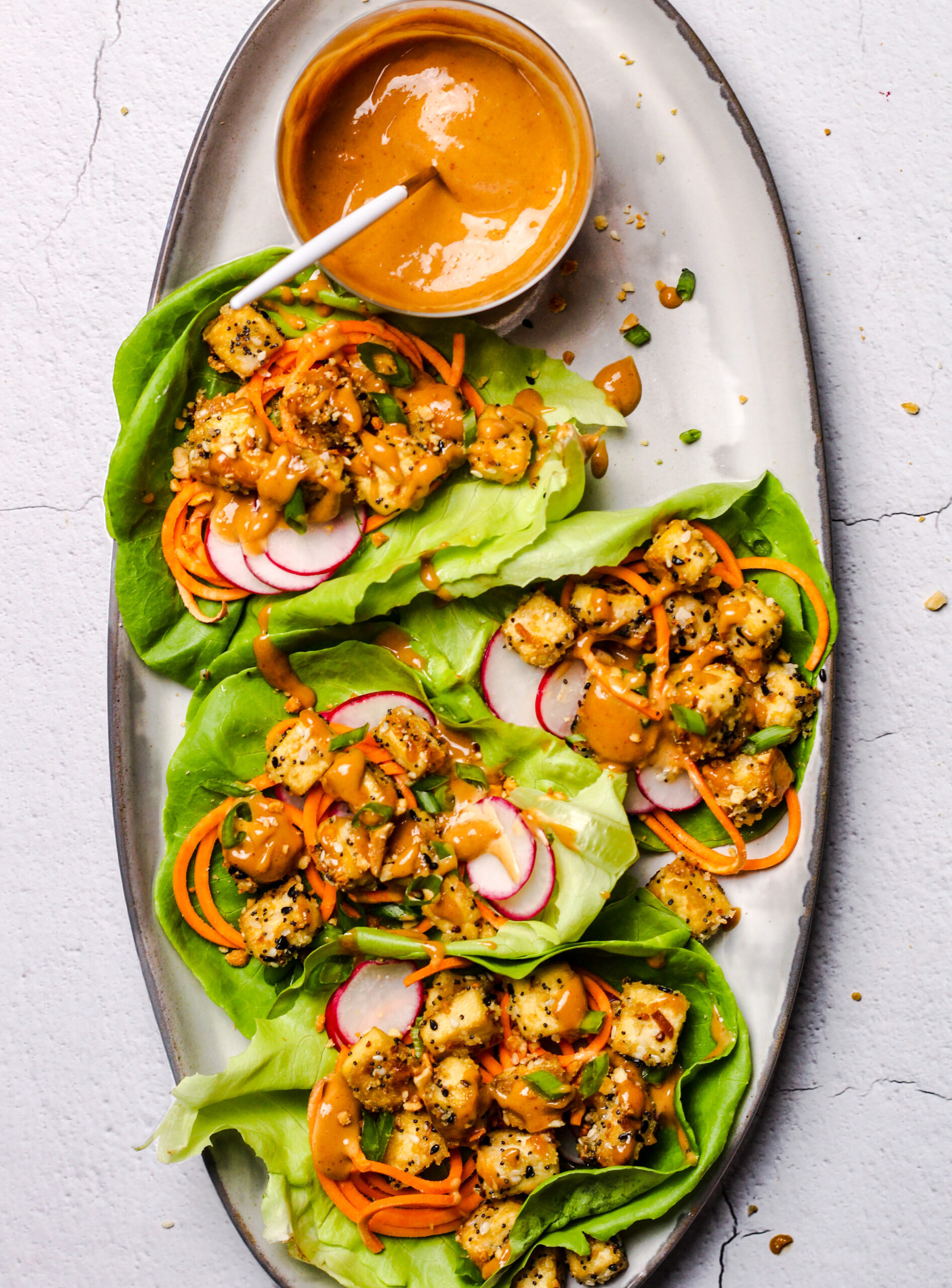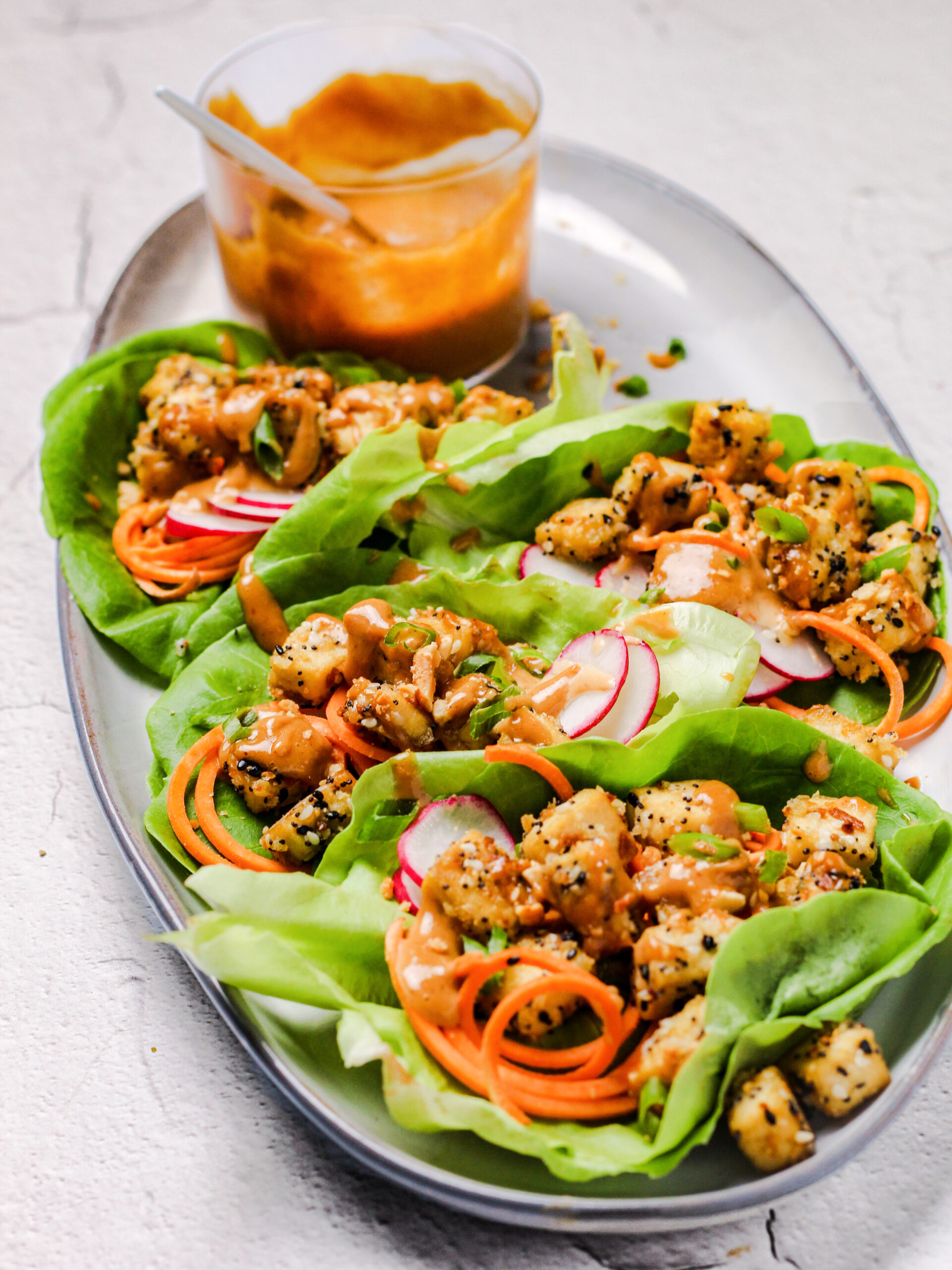 Why the "weird" ingredients
I realize the ingredients here look a little random, and I have to admit they kind of are. A lot of my recipes come from utilizing what I have in the fridge or pantry right in that moment…hello, Mom Under Pressure! So this recipe was probably a mashup of flavors that I know work together plus a few things I wanted to either use up or simply experiment with.
The spiralized sweet potato or sweet potato "noodles" in this recipe are kept raw, and I think they are great that way! We have a spiralizer so make sure the noodles are pretty thin, and you don't have to use a ton unless of course you want to. Using sweet potato noodles here is a great way to use up one that's been sitting around. It adds color, nutrients, a touch of sweetness, and my favorite reason for using it is for the crunch factor! You can roast your sweet potato if you prefer it cooked.
Radish also brings a pop of color, great texture, and a slight bitterness. The flavors are really balanced here because you've got savory, sweet, bitter, and nutty….basically these lettuce wraps are an Umami bomb waiting to explode in your mouth!
The Peanut Sauce
This peanut sauce is super easy! Just buzz everything up in your food processor or blender. If you do use a food processor than grate the garlic and ginger first because usually the blade don't catch those smaller items. Yes, there are 9 ingredients….sorry, not sorry. You need them all to achieve maximum flavor! There will be leftovers so keep this sauce in your fridge in an airtight container for up to 7 days. Use it on chicken, shrimp, salads, or mix it with coconut milk to make the base for curry!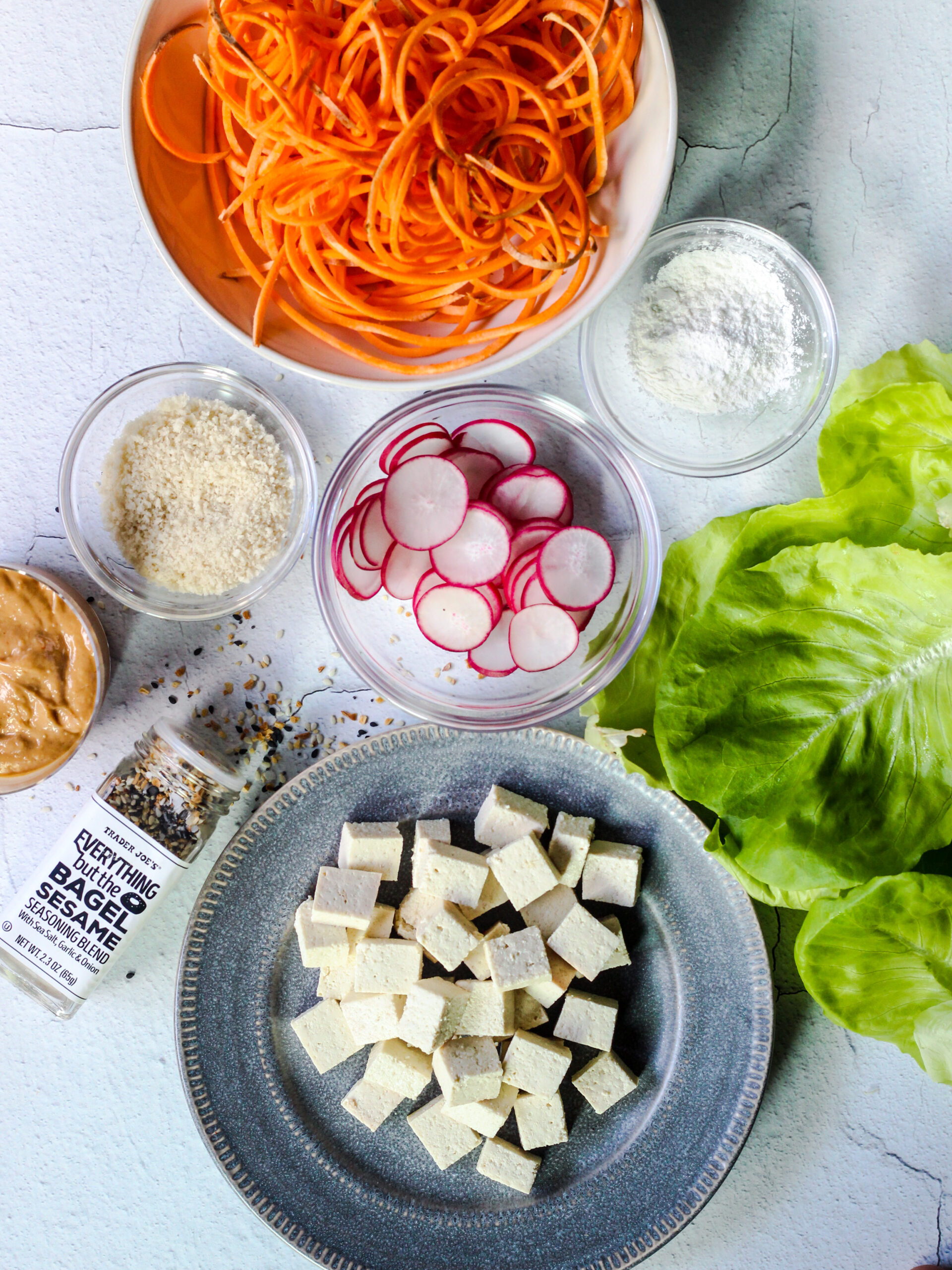 Everything Bagel Seasoned Tofu
I wanted to keep these wraps plant-based for a few of my family members. If you don't like tofu, can't find it at the store, or can't have it in your diet than my substitutions would be to use ground chicken, salmon, shrimp, or cauliflower.
Try to get the tofu as dry as you can before coating it in the everything bagel seasoning mixture so that it gets nice and crispy in the oven. A little moisture is totally fine if you don't have enough time to let the tofu dry out. In that case, it may help to bake it a little longer in the oven.
You can easily make this recipe gluten-free by swapping out the panko breadcrumbs and soy sauce for gluten-free alternatives.
You can even just simply leave out the breadcrumbs! The panko adds a great crunch and helps the seasoning stick to the tofu better, but if you can't have it or don't have it on hand then leave it out. We are only using one tablespoon in this recipe.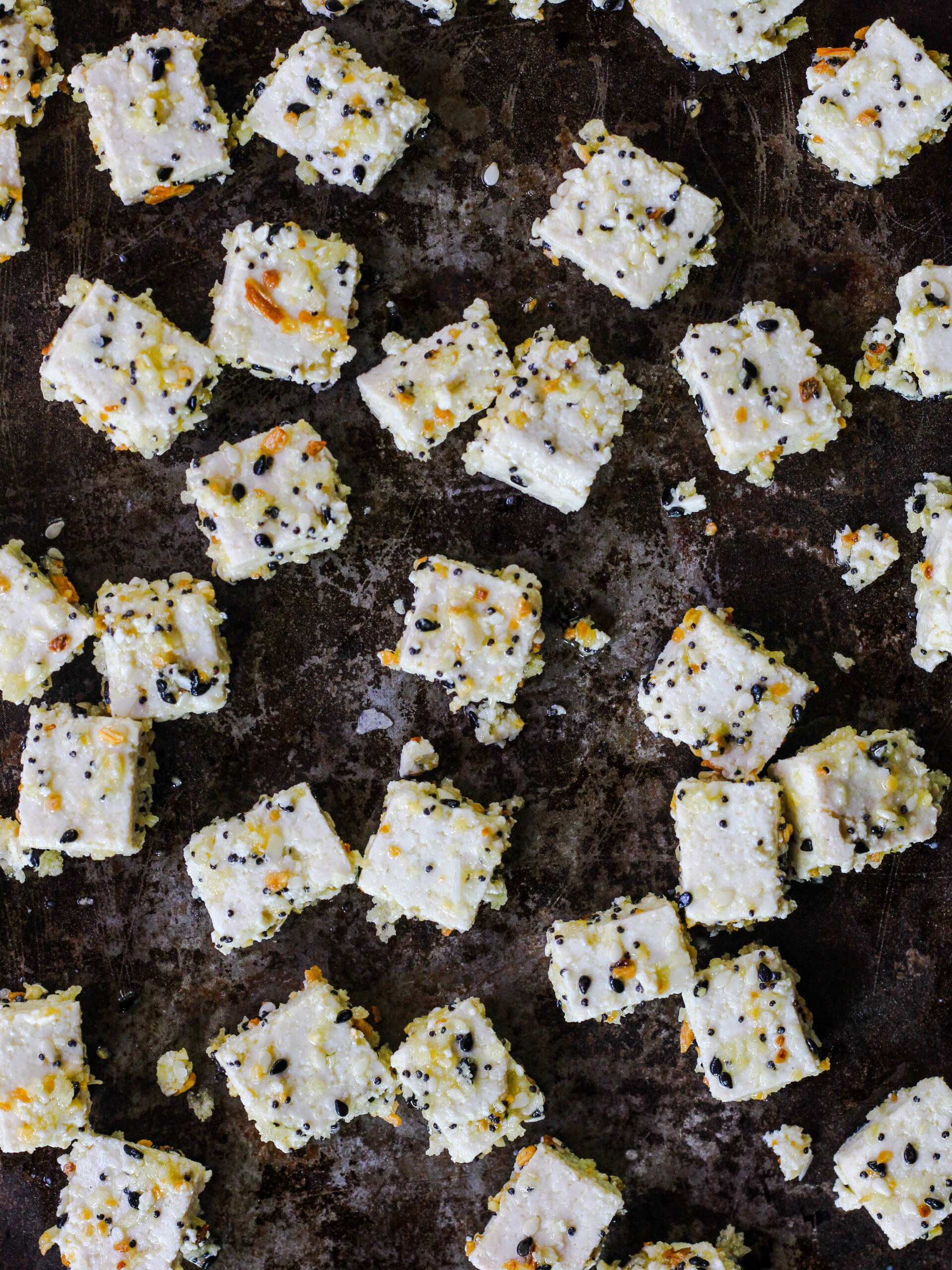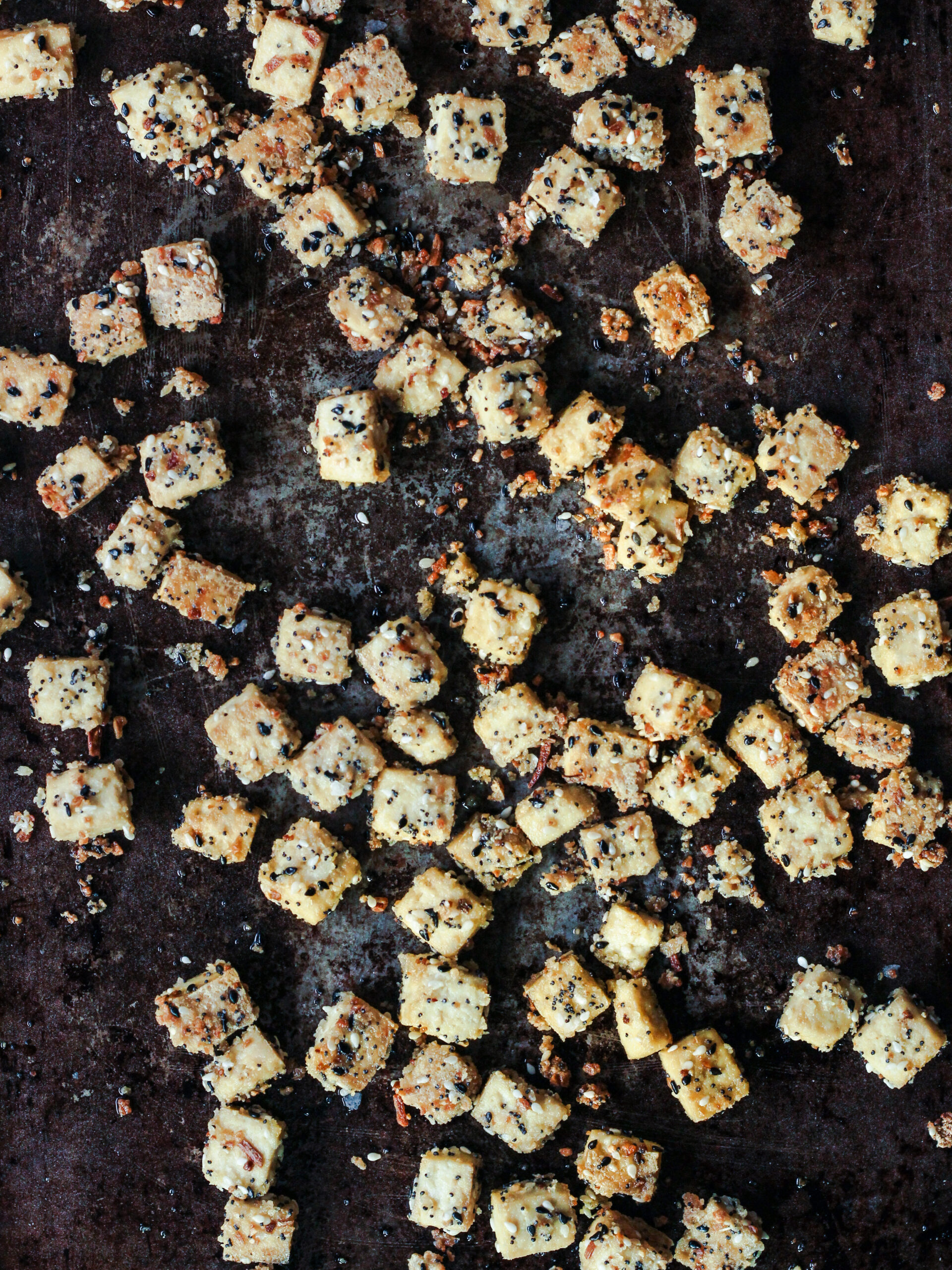 Everything Bagel Seasoning Crusted Tofu Lettuce Wraps
Bite size tofu pieces are dredged in my favorite- everything bagel seasoning, and baked until crispy. Serve these up in fresh butterhead lettuce, topped off with sweet potato spirals, radish, and a delicious homemade peanut sauce!
Ingredients
Everything Bagel Seasoning Crusted
1

package 14 oz. extra firm tofu

2

tbsp

everything bagel seasoning

1

tbsp

cornstarch

1

tbsp

panko breadcrumbs

1-2

tbsp

oil
Peanut Sauce
1/2

cup

creamy peanut butter

2

tbsp

low sodium soy sauce

1

tbsp

honey

1

tsp

toasted sesame oil

1

tsp

rice wine vinegar

1

tbsp

Sambal oelek

1

tsp

lime juice

1

clove

garlic grated

1/2

inch

ginger grated

1/4

cup

water

as needed to thin out sauce
Wraps
4-5

oz.

Butterhead lettuce

1/2

medium sweet potato spiralized

3

radishes

sliced

1/4

cup

crushed peanuts

optional

2

stalks green onion

chopped optional
Instructions
Remove tofu from packaging and press between paper towels to remove excess liquid. Carefully cut into 1/2 inch pieces.

You can leave the cut tofu out for 1 hour to let more of the liquid evaporate. The tofu should be fairly dry before baking to ensure it gets crispy.

Mix together everything bagel seasoning, cornstarch, and breadcrumbs in a small bowl. Set aside. 

Evenly coat tofu pieces with 1 to 2 tablespoons of oil. You can do this in a large bowl or in the tray you are baking it in, but I prefer to use a bowl and transfer the tofu after it is seasoned. 

Sprinkle everything bagel seasoning mixture over the tofu and gently toss until tofu is coated evenly with the seasoning mixture. Transfer to a baking sheet if you used a bowl.

Bake for 30 minutes until crispy. Flip after 20 minutes so all sides get nice and golden brown.

While the tofu is baking, blend all of the ingredients except for the water together for the peanut sauce.

The sauce will be a little thick at this point so you can slowly stream in 1/8 to 1/4 cup of water until the peanut sauce is smooth and pourable. 

Prepare toppings for lettuce wraps. You can store bought spiralized sweet potato noodles, or even roasted sweet potato in this recipe. 

Once the tofu is ready, assemble lettuce wraps with veggies and peanut sauce. Garnish with crushed peanuts and green onion if desired! 
I hope you try this recipe soon, and when you do don't forget to tag me on Instagram or Facebook with your photos!