Sometimes hosting a barbecue or cookout can be daunting. You wrack your brain going over details about the party. Will there be enough food? Enough drinks? Will someone be at the grill the ENTIRE time? What will the kids eat? That's why grilling (or microwaving…wink, wink) high quality hot dogs with awesome toppings that each of your guests can customize is perfect!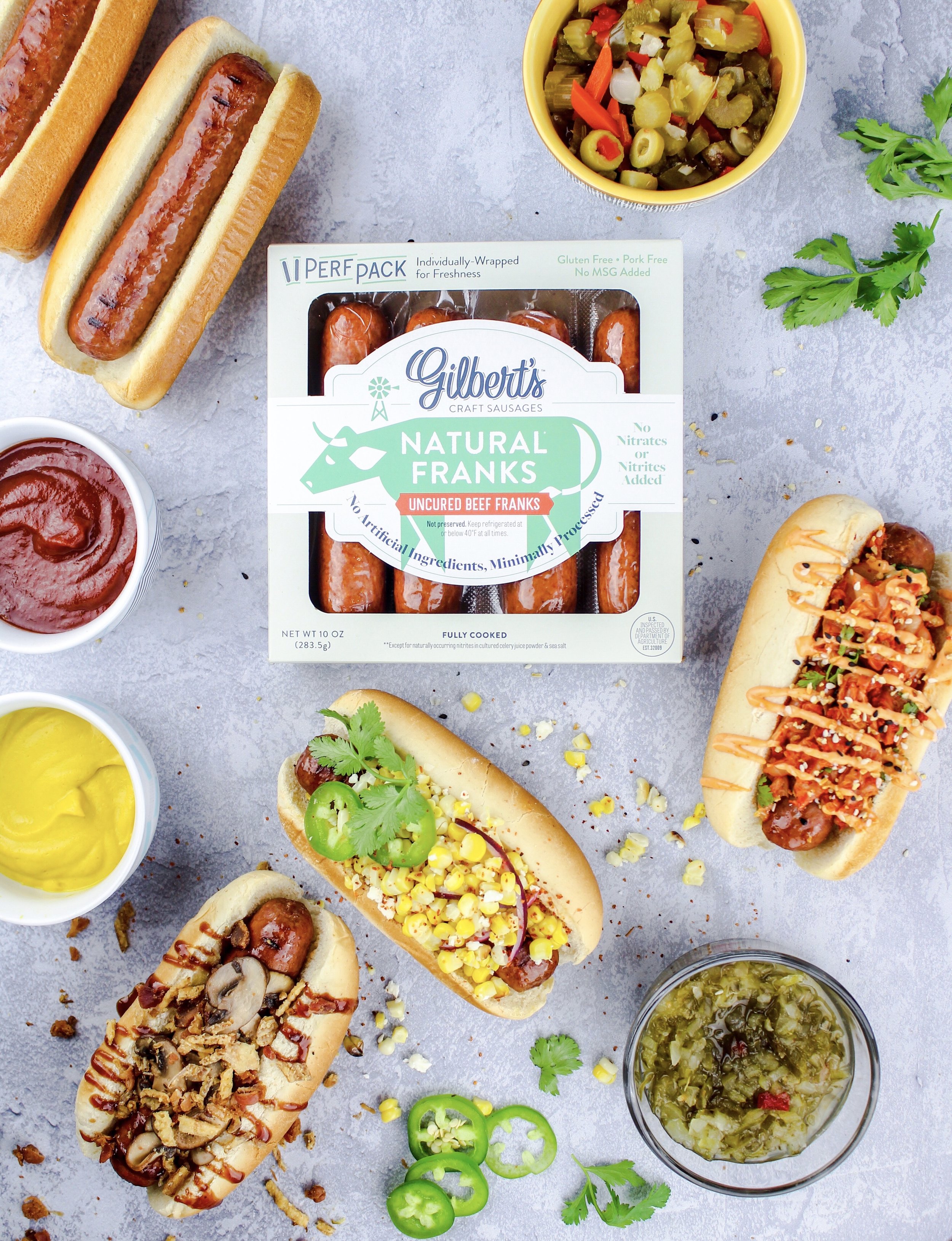 Setting up a hot dog bar with multiple toppings is a perfect way to appease both adults and kids, and it's super easy! The first (and probably the most important) thing to do is get some really great hot dogs. I love using Gilbert's Natural Franks. These are 100% natural beef franks that are uncured, minimally processed, and do not contain artificial ingredients, nitrates or nitrites. In addition to all of this, they are are fully cooked and individually wrapped to maintain their freshness. You can tear off exactly how many franks you need for your guests, and save the rest for later. The packaging is microwave safe as well so even if you don't have a grill you can still host a cookout with products from Gilbert's. Just pop the franks in the microwave for 30ish seconds and voila, they are ready to eat!
Now, let's get to the toppings. You're going to have the staples: ketchup, mustard, relish. But let's take it up a notch! We are going to go Mexican with an elotes style topping, American with a steakhouse hot dog, Asian with kimchi and sriracha mayo, and Italian with giardinera!
Mexican
2 ears of corn, shucked

4 oz. cotija cheese, crumbled

1/2 cup sliced red onion

1 tbsp chili-lime seasoning such as Tajin

Place corn on a baking tray. Season with salt and pepper. Roast in a 450 degree oven until corn is slightly charred. This will take about 15 minutes. Flip half way through. Once the corn is cool enough to handle use a sharp knife to cut off kernels into a bowl. Mix with onions, cheese, and chili-lime seasoning.
Asian
Kimchi

Everything bagel seasoning

Sriracha mayonnaise

Mix together 3 parts or mayo to 1 part sriracha or to taste depending on how much spice you can take!
Steakhouse
Barbecue sauce

Fried onion strings

Crispy bacon crumbles

8 oz. baby bella (cremini) mushrooms, sliced

Saute sliced mushrooms on medium-high heat in a skillet with 2 teaspoons of oil for 5 minutes. After they have lightly browned add a pinch of salt to taste and a few grinds of black pepper. Crisp bacon in the oven or microwave, or buy ready made bacon crumbles.
Italian
giardiniera

cheese such as mozzarella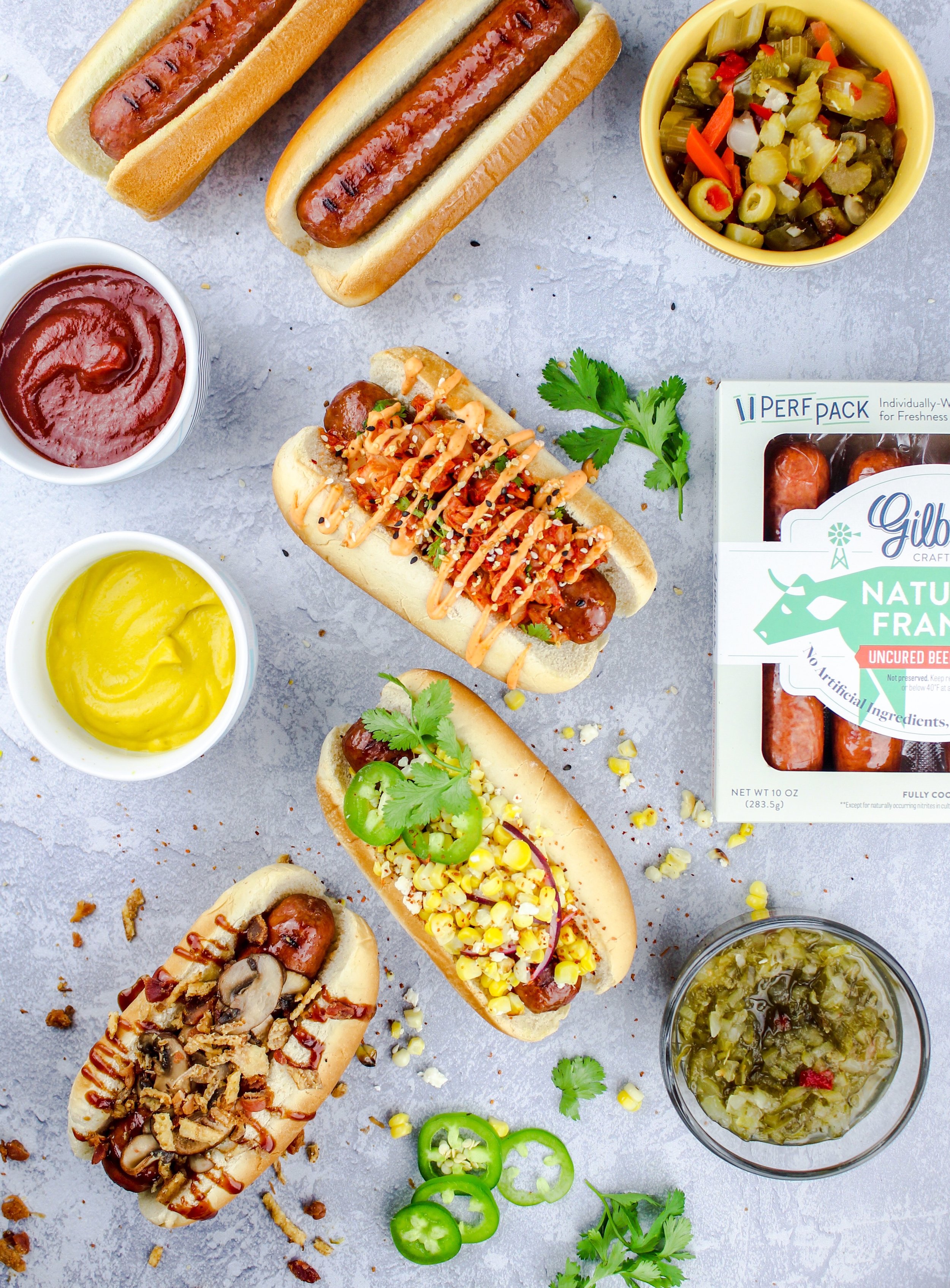 The best thing about these toppings is that you can buy almost everything ready made from the grocery store! What we do have to make is quick and simple. A huge bonus is that Gilbert's specializes in flavored chicken sausages too in case you have a friend that doesn't eat beef….this happens with us quite a bit! More on their chicken sausages in my next post.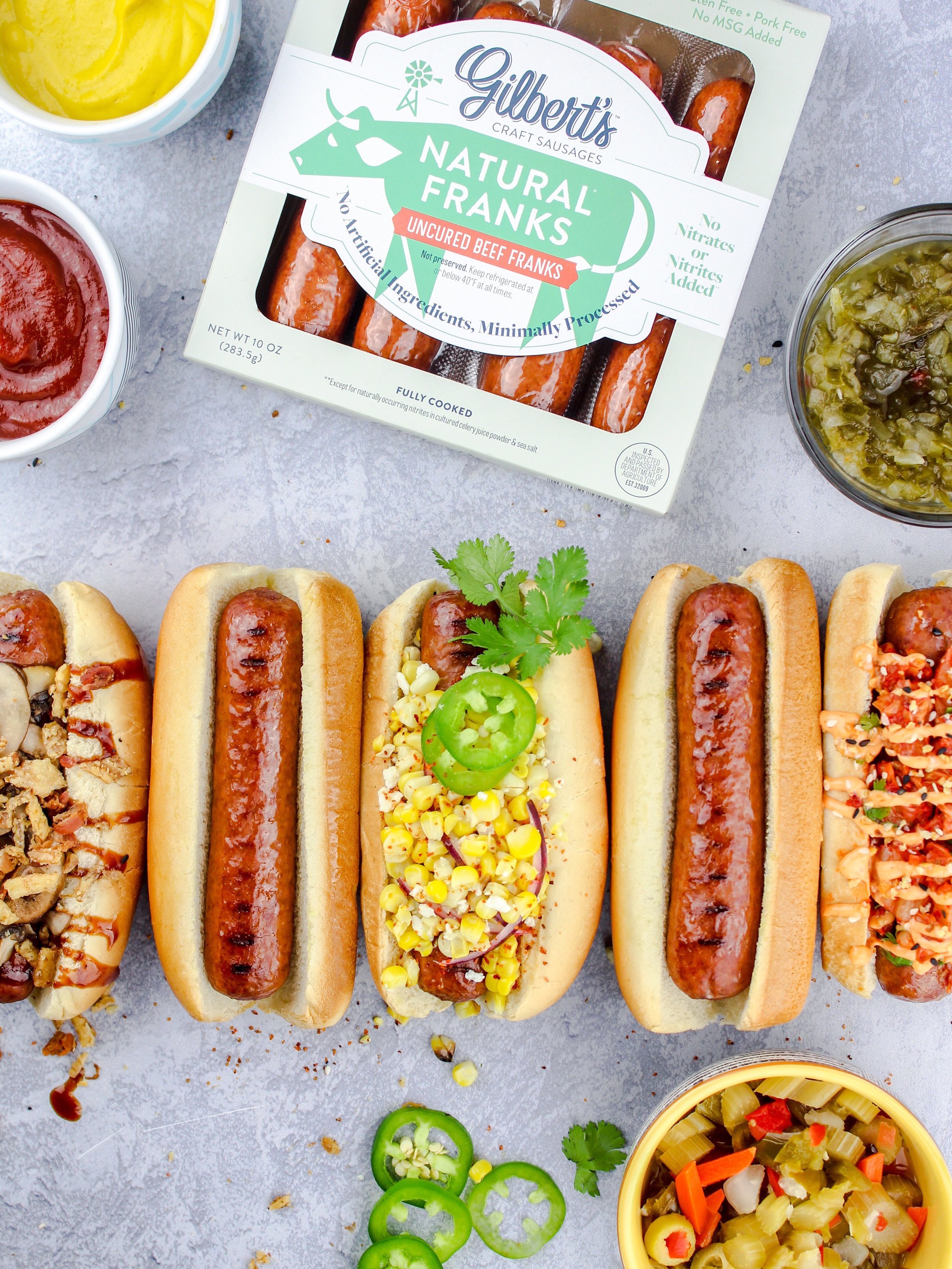 This post is sponsored by Gilbert's Craft Sausages. Their story behind making high quality packaged sausages is heart-warming and authentic. Read more here .