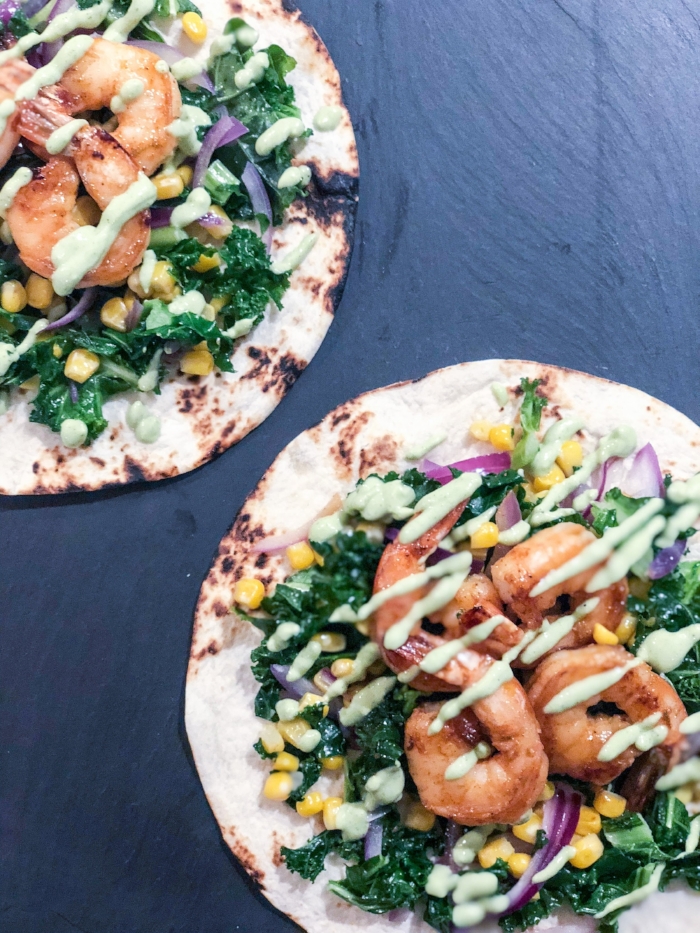 We are in the middle of a heatwave here in Chicago—50 degrees! Can you believe it? Perfect time to add little bit of Summer to your next meal. These tacos are as easy as 1-2-3!
Chili Glazed Shrimp
3/4ish lb peeled and deveined shrimp
3 tablespoons oil
1 tbsp honey
1/2 tsp lime zest (approx 1 lime)
1/2 tsp chili powder
1 tbsp honey
1/2 tsp salt
1 cup corn (frozen is great!)
3 handfuls kale, chopped
1/4 red onion, thinly sliced
1 clove garlic
Flour or corn tortillas (I like flour for tacos)
Avocado Crema
1/2 ripe avocado
1/2 cup Greek yogurt (or sour cream)
1/4 medium jalapeño, seeds removed
1 clove garlic, minced
1 tbsp oil
1 handful cilantro (leaves and stems)
2 stalks green onion, rough chop
1/2 tsp salt
Juice from 1/2 a lime
Mix together oil, honey, lime zest, salt, and chili powder. If marinade is not coming together heat in microwave for about 20 seconds, or on the stove top until ingredients combine well. Let cool slightly, then pour over shrimp, and carefully toss so that shrimp are nicely coated.
For avocado crema blend together all ingredients until smooth!
In a saute pan, heat small mount of oil. Add corn and saute until kernels start
to get cooked through and slightly charred. Add garlic, red onion, and kale. Add a pinch of salt, and saute until kale is slightly wilted. Remove from pan.
In the same pan saute marinated shrimp on medium to med-high heat for 3 minutes until cooked through (opaque in color). Assemble tacos with vegetables, shrimp, and crema. Don't forget to squeeze some lime over the top!
Done and Done!
---
Tips
I like to char my tortillas over my gas burner to give that restaurant-syle feel.
Try with shredded chicken breast or rotisserie if you're not into shrimp!
Pre-chopped kale is available near the bags of salad mix. Watch out for the thicker stems!
.