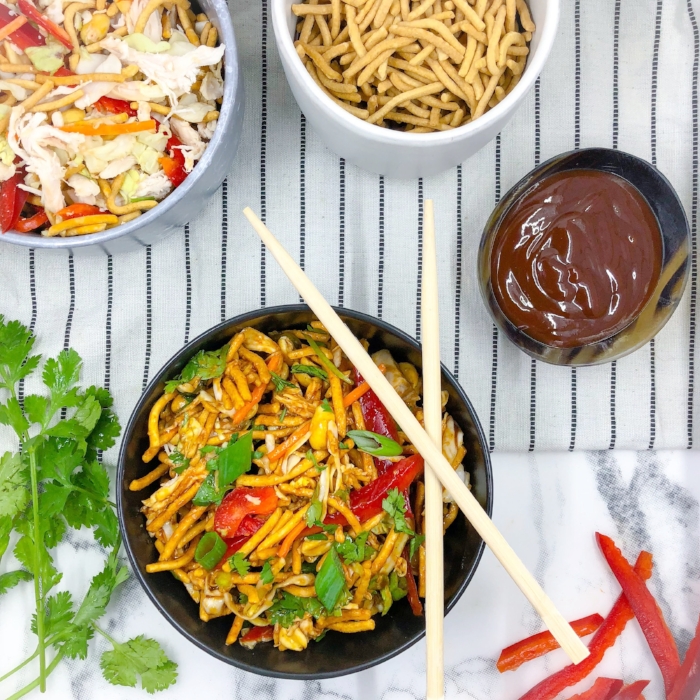 I went on a 10 day trip to Mumbai, India and realized one thing really fast….why am I not making more Indian street food at home??! There are literally food stalls at every few feet serving up delicious pani puri, pav bhaji, dosas, chaat, grilled veggie "frankies' (sandwiches), and much more! I indulged in so much of this snack food that it was hard to eat dinner later at night. 
One week after coming back to Chicago, we headed home to Indiana for my brothers graduation from Indiana University. My mom, aunts, and her friends cooked up a feast which included a ton of apps including pani puri. Ahh ha! A lightbulb went off and I made sure to ask my mom's bestie how she makes her Chinese bhel. Traditional bhel is an appetizer or snack made of puffed rice, vegetables like potatoes and onions topped off with a mix of sweet and spicy chutneys.
Below you will find my updated version of Chinese bhel which uses a bag of Asian chopped salad (shredded cabbage, carrots, cilantro, and green onions), store-bought Szechuan sauce, rotisserie chicken, and a few kitchen staples to throw together an easy crowd-pleasing appetizer or dinner! No cooking required! I love when I can add that in there 😉
Ingredients
1 bag of Asian style chopped salad mix or cole slaw mix (approximately 12 oz.)

2-3 cups crunchy chow mein noodles

3 cups rotisserie chicken meat, shredded

1/2 red bell pepper, thinly sliced

1 cup Szechuan cooking sauce (I used San-j brand)

2 cups tomato ketchup

4 oz roasted peanuts (optional)

1 large handful cilantro, washed and chopped

4 stalks green onion, washed and chopped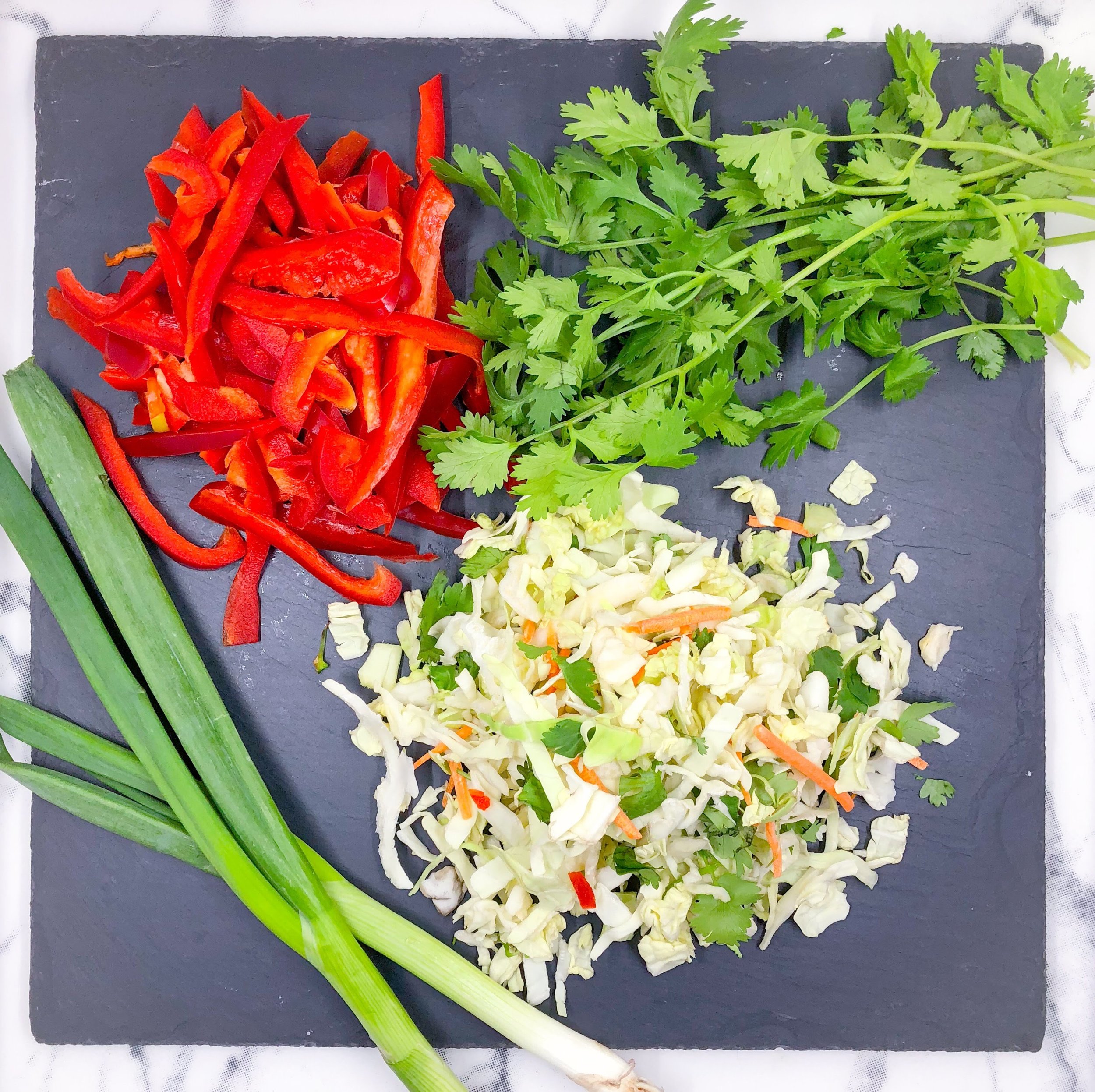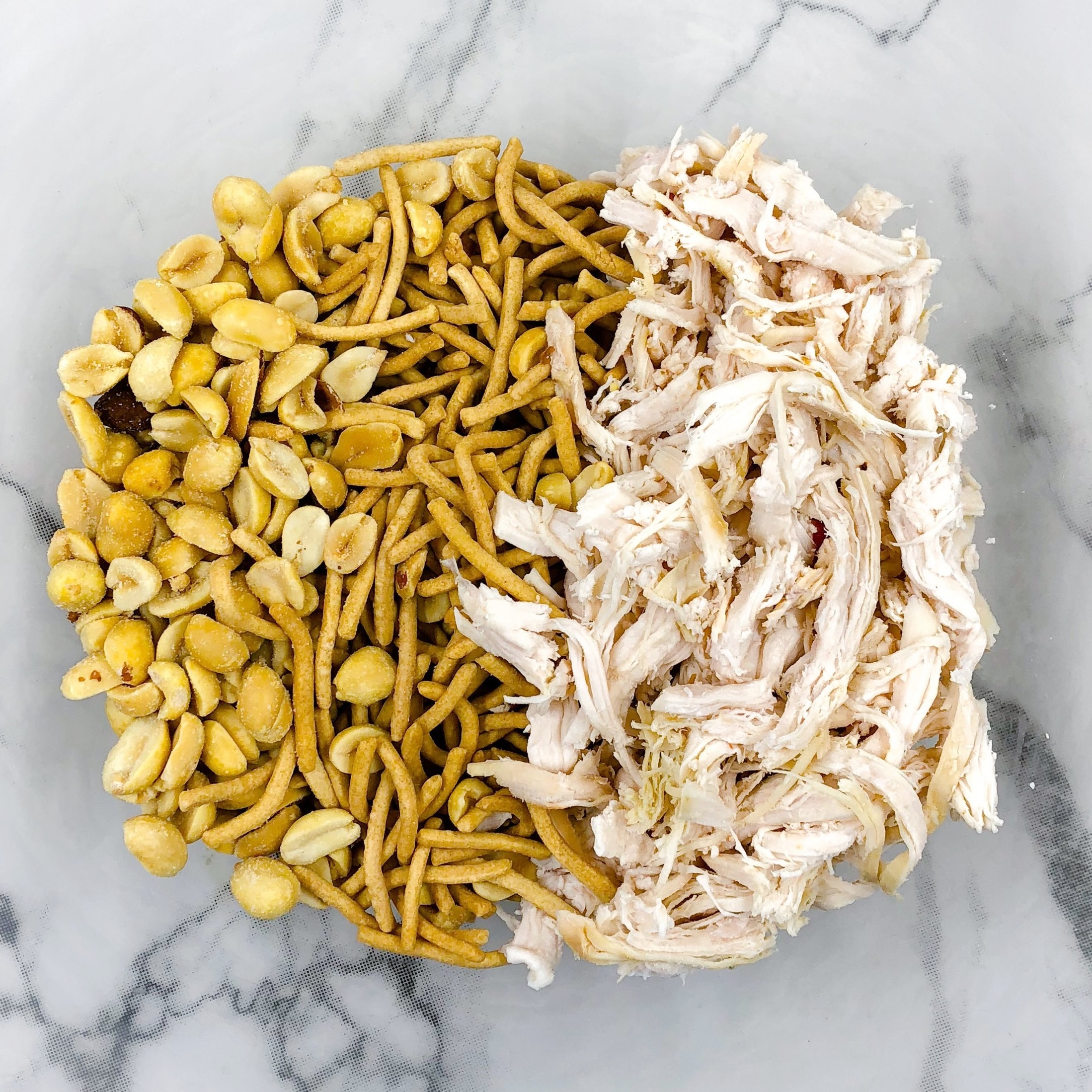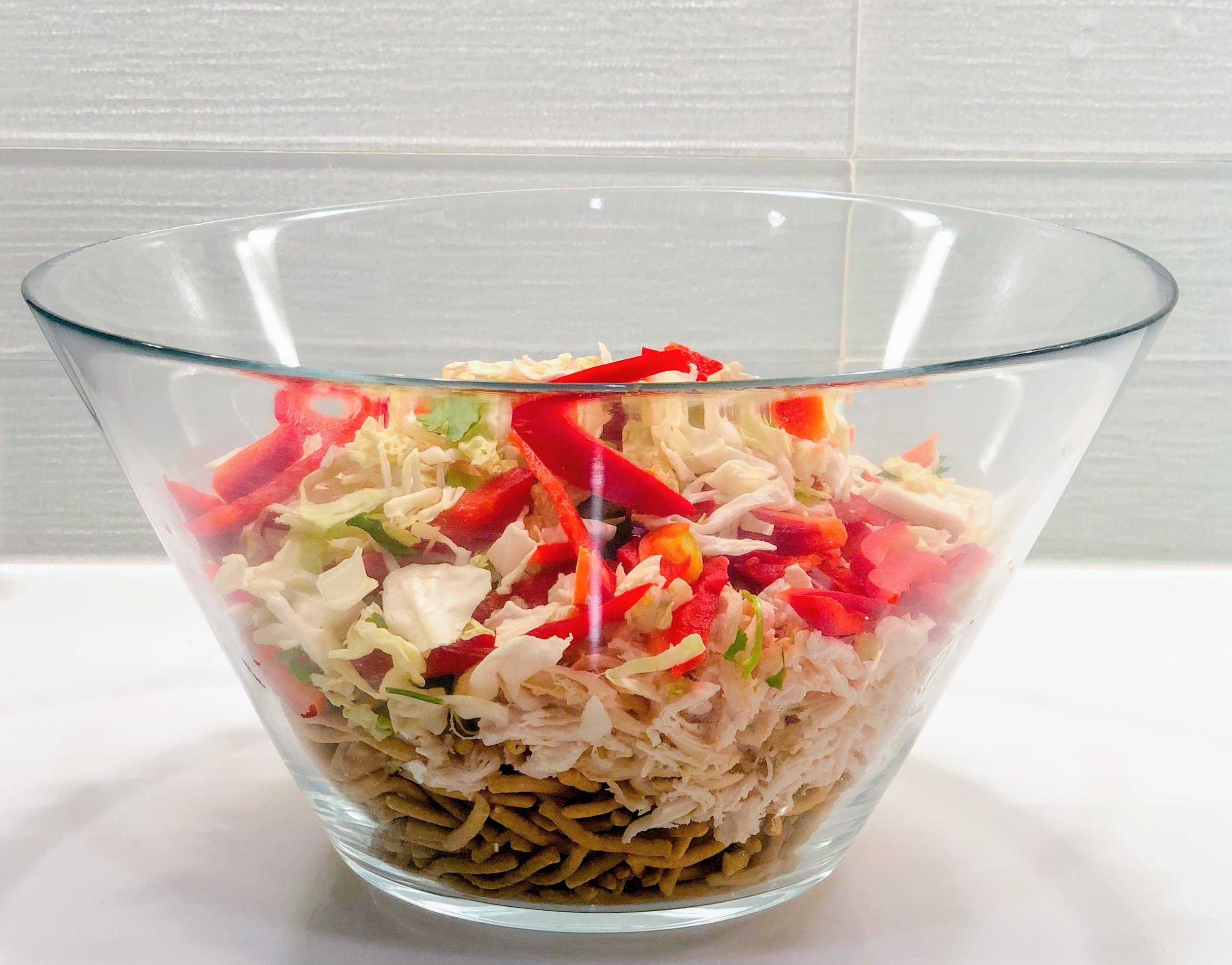 Mix together Szechuan sauce and ketchup and set aside. You can start by using half of the amount to test the spice level, and adjust the quantity from there. My Szechuan sauce was pretty spicy so I ended up with 1 part Szechuan sauce to 2 parts ketchup. Place shredded chicken, shredded cabbage and carrot mix, peanuts, and chow mein noodles in a large bowl. Give it a toss. Then add in desired amount of Szechuan and ketchup sauce. Mix well to combine all ingredients. Garnish with cilantro and green onions. Serve immediately!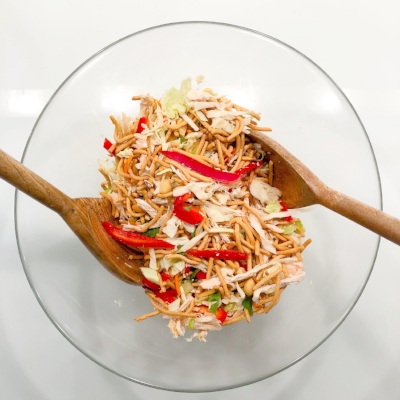 Tips
You can adjust this recipe as needed by using your desired amount of vegetables, noodles, peanuts, and sauce. This particular recipe makes 4-5 large servings.

If you are making this in advance then leave out the sauce and chow mein noodles until ready to eat since the noodles will get soggy!

Use any other add-ins that you like such as edamame, jalapeno, celery, or cucumber.

Leave out the chicken for a vegetarian option!