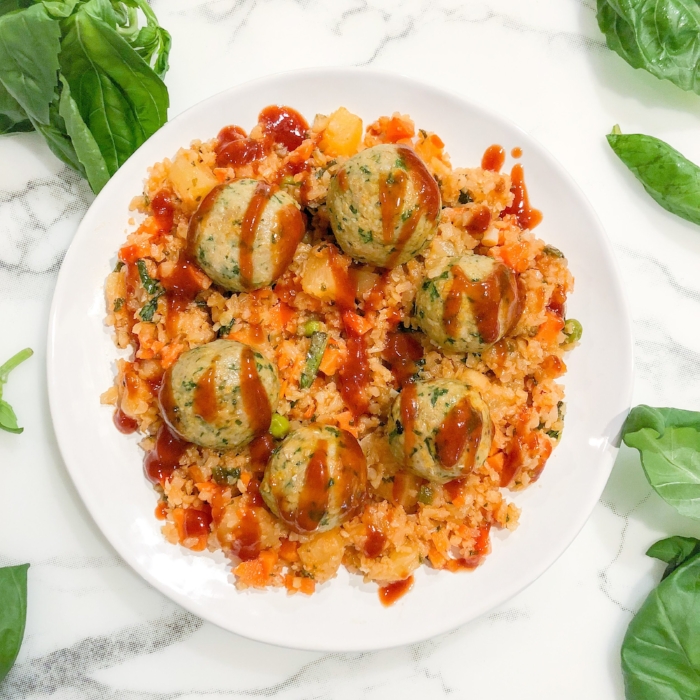 Finally getting this recipe out there! These chicken meatballs were such a hit with my family–husband, toddler, niece, nephew, sister-in-law.  See what I mean? The meatballs themselves are so tasty,  and you can hide a boatload of vegetables in them! A sweet, tangy sauce is always a win for little ones, and with this recipe I made one sauce to use for dipping the meatballs, and for flavoring the rice.  To make this meal even easier I went to the freezer section to grab a bag of frozen cauliflower rice, and added pineapple chunks and basil to give it some fresh flair! 
Ingredients
Meatballs
1 lb ground chicken breast

1/2 sweet potato, skin removed and roughly chopped

1/4 white onion, roughly chopped

1 cup packed baby spinach leaves

2 cloves garlic

1 tsp salt

1/2 tsp dried Italian seasoning mix

1/2 tsp paprika
Hawaiian Sweet and Sour Sauce 
1/2 cup coconut aminos or low sodium soy sauce

3 tbsp tomato paste

1/2 cup pineapple juice, from can of pineapple chunks

1 clove garlic

1 tsp ginger, grated

1/4 cup brown sugar, loosely packed
Pineapple Fried Rice
1/2 package riced cauliflower, "fried rice" blend or "riced veggies"

1 cup pineapple chunks, chopped

1/4 cup fresh basil leaves

3-4 tbsp prepared Hawaiian sweet and sour sauce
optional
1/4 cup carrot, finely diced

1/4 cup celery, finely diced

1/4 cup onion, finely diced
Preheat oven to 375 degrees. Place all the ingredients for the chicken meatballs minus the chicken in a food processor. Pulse until vegetables are finely minced. Mix together with the chicken, and roll out meatballs on a lined baking sheet. Mine were a little smaller than a golf ball, and I made 20 meatballs from 1 pound of ground chicken. Bake for 20 minutes, flipping once half way through, and then broil for 3-5 minutes.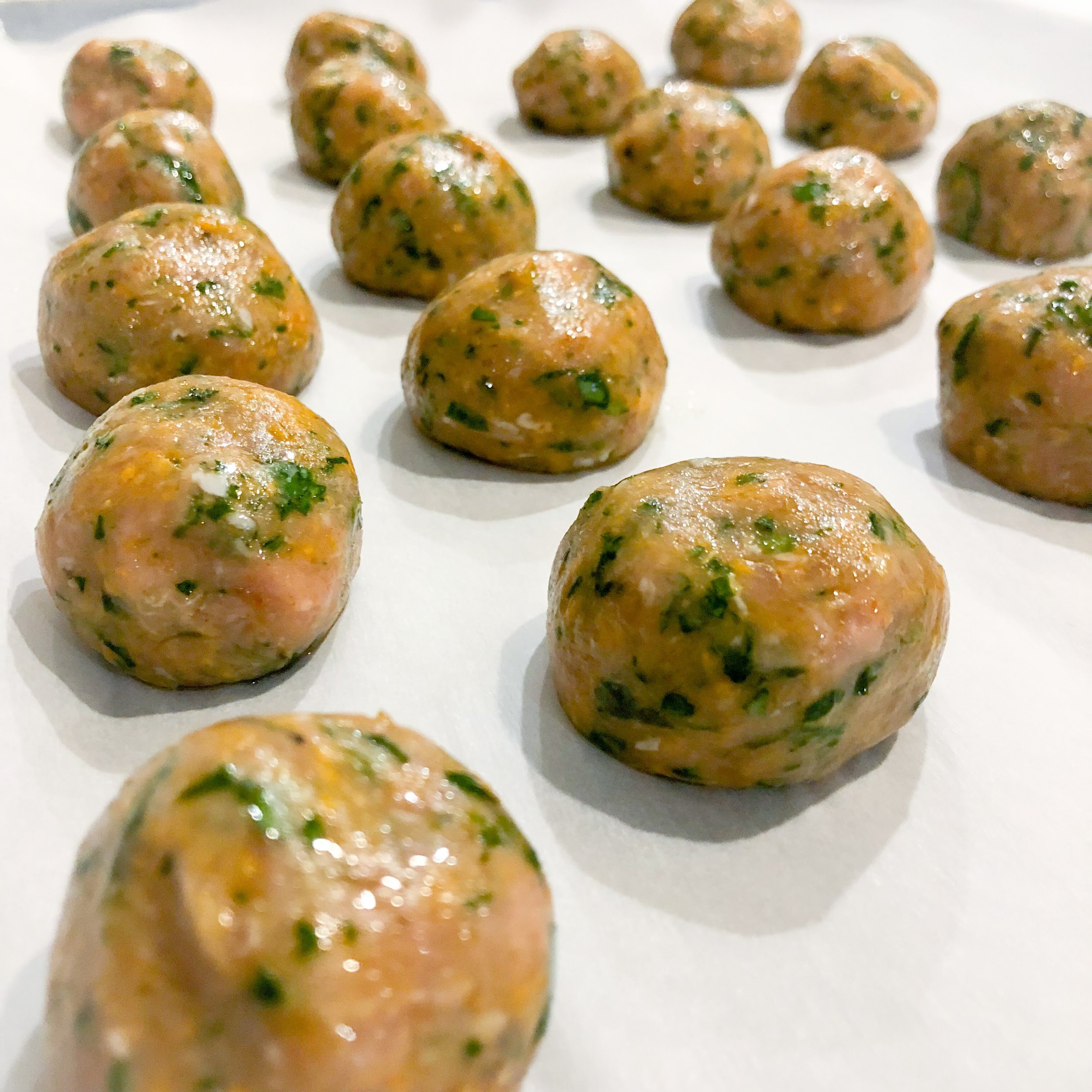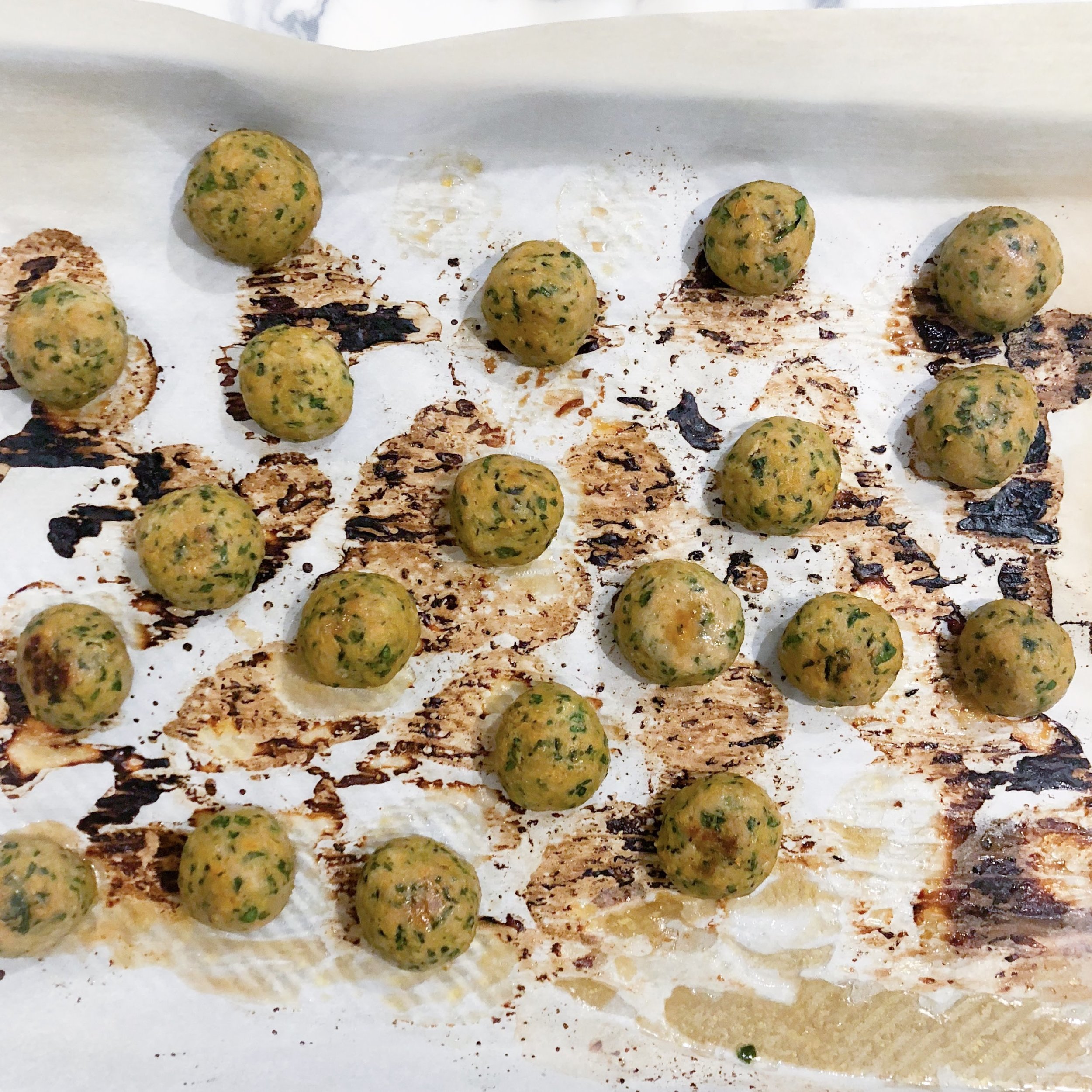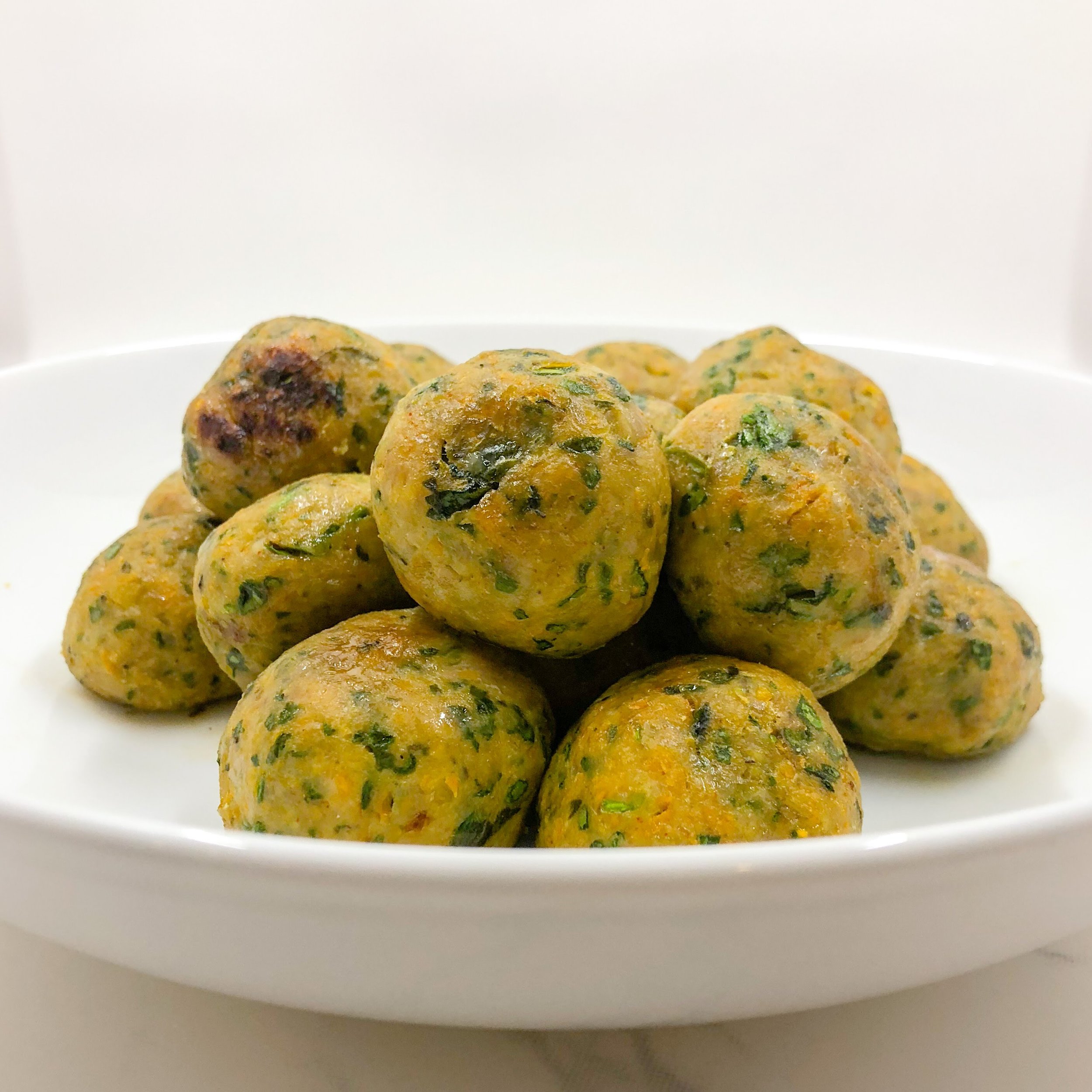 While the meatballs are baking in the oven, blend all of the ingredients for the sauce using a small blender i.e. Magic Bullet. You can also grate the ginger and garlic and whisk everything together in a bowl until the sugar has dissolved.
For the pineapple fried rice, saute finely chopped carrot, celery, and onion in a skillet for 2-3 minutes. Then add pineapple chunks and half of the bag of riced cauliflower with vegetables. Add 3-4 tablespoons of sauce (or to taste), and mix well. Cover and cook until cauliflower rice is cooked through. Top with chopped basil.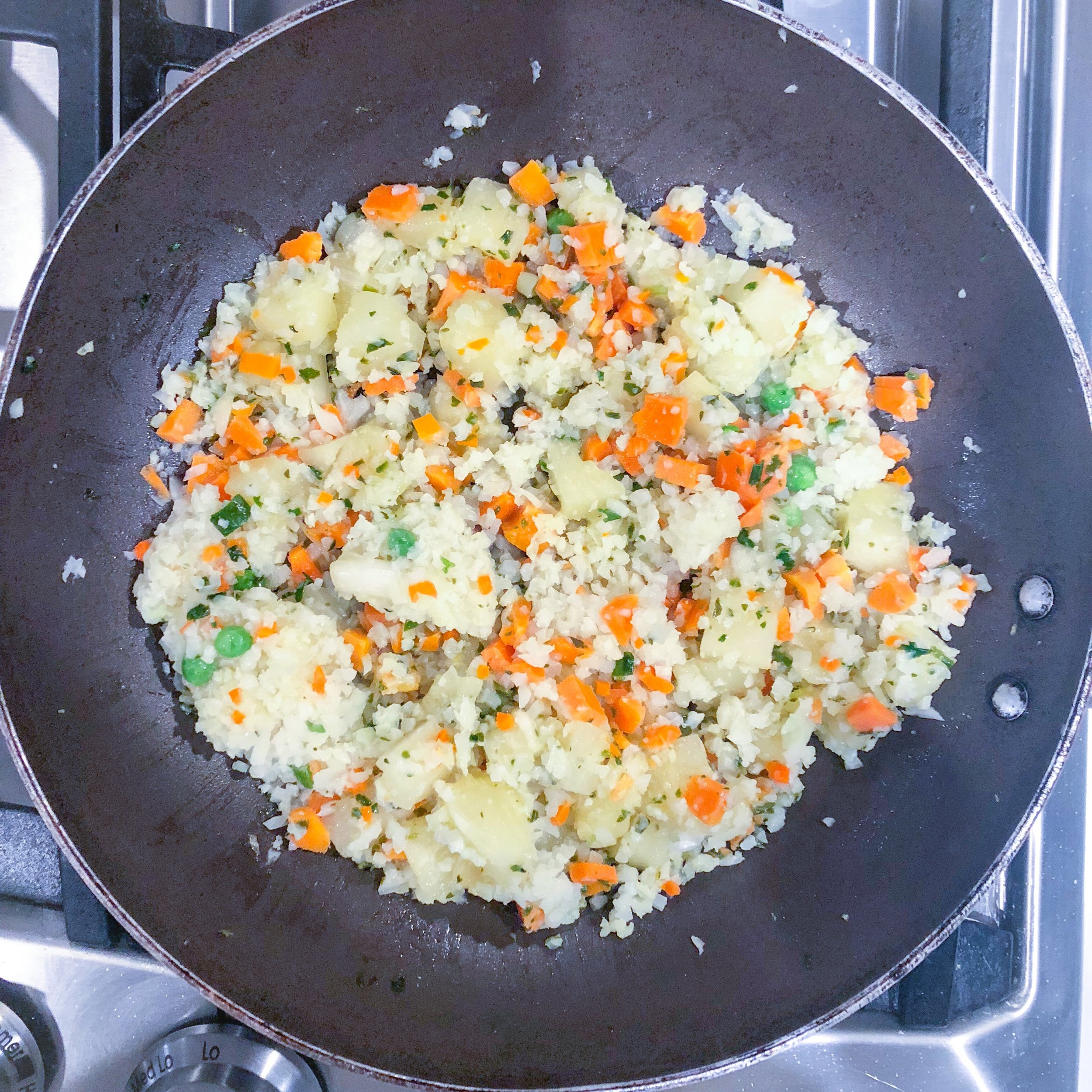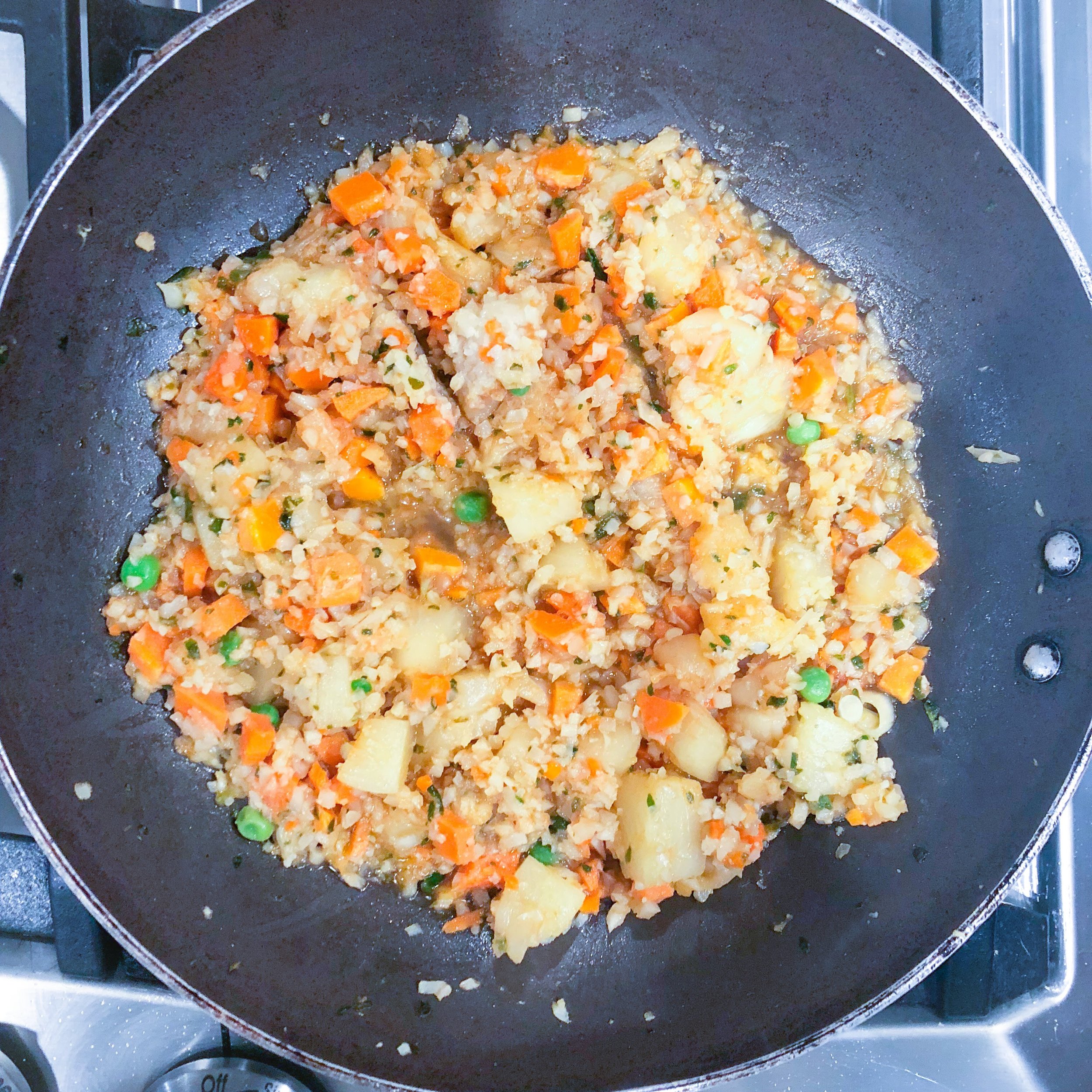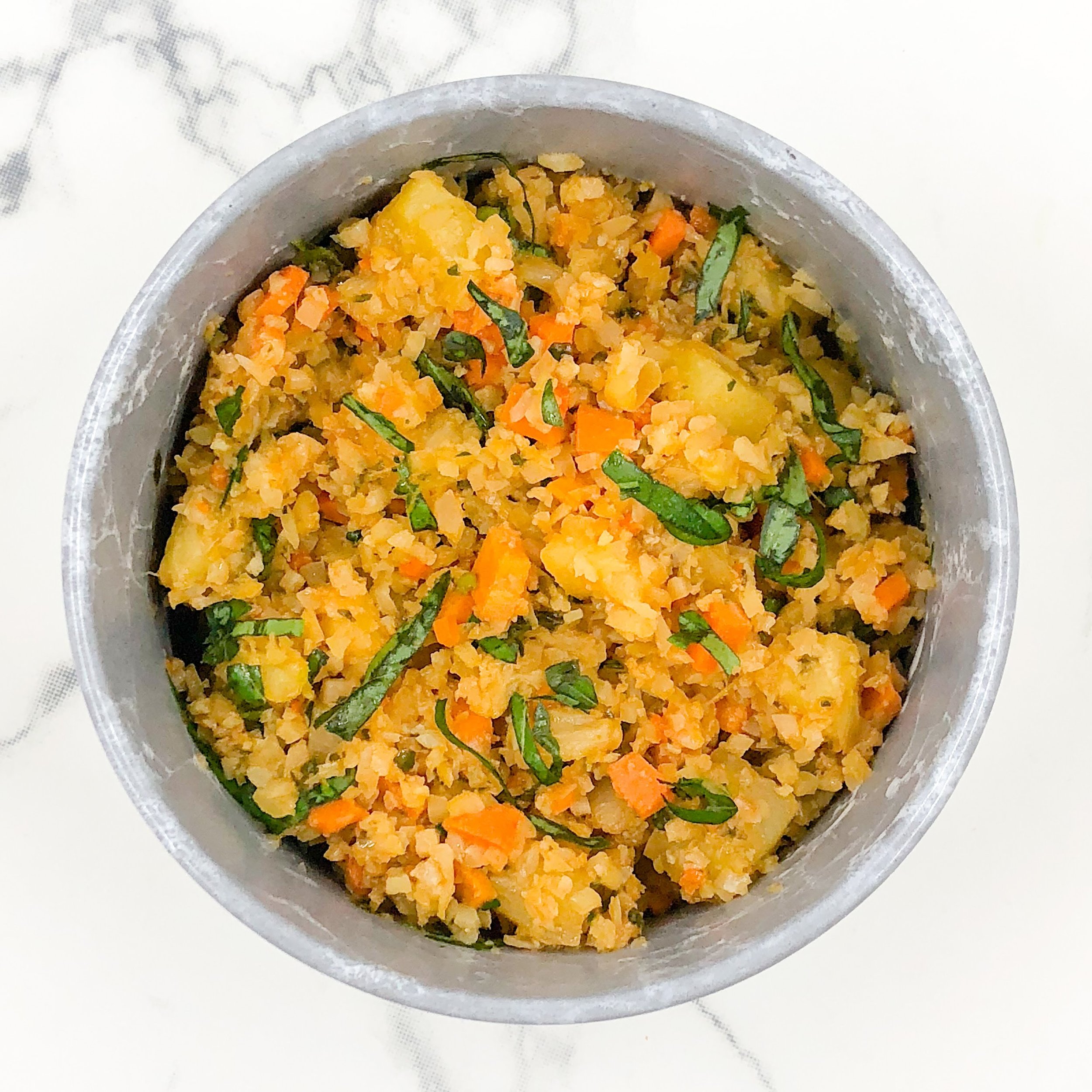 ---
Tips
I like to place some oil at the corner of my tray to dip my hands in to make rolling out the meatballs easier. You can also place the chicken mixture in the fridge for 30 minutes.

May substitute ground turkey for chicken.

The vegetables in the chicken meatball mixture help to keep the meatballs from drying out. You can substitute vegetables that you like here i.e. mushrooms, zucchini.

You can slather the sauce on the meatballs before broiling, or use it as a dipping sauce. Both methods are equally delicious!