One night I couldn't sleep so naturally I was thinking about food, and it hit to make a healthy recipe for kofta. Kofta are essentially meatballs, and can be made vegetarian as well. Vegetarian kofta are often made using potatoes or paneer cheese, but for this version of kofta I am using eggplant! The eggplant keeps the kofta light, low-carb, and cooks up quickly too! You will love this new take on kofta, or meat-less meatballs.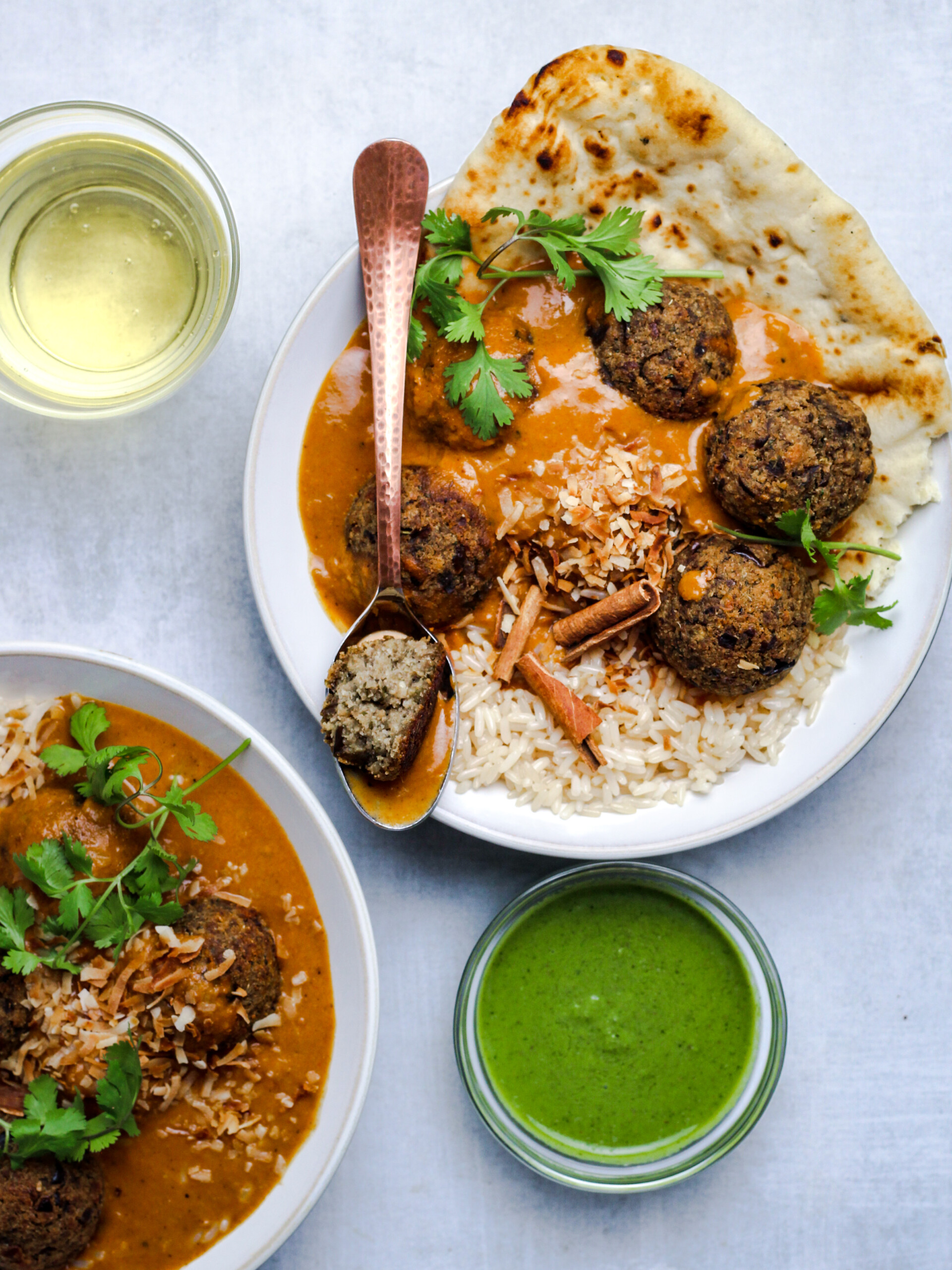 The ingredients for the kofta are pictured below. This recipe uses cashew butter as a binder, but you can substitute with almond butter, natural peanut butter, or even sunflower butter. I also used homemade sourdough breadcrumbs to help bind the meatballs together, and keep them moist. Store-bought breadcrumbs will work great as well. If you add the cilantro to this recipe – which I highly recommend because it adds so much freshness – don't be afraid to use the stems! I discard the really thick stems, but don't go too crazy trying to get all the cilantro leaves off of the smaller ones.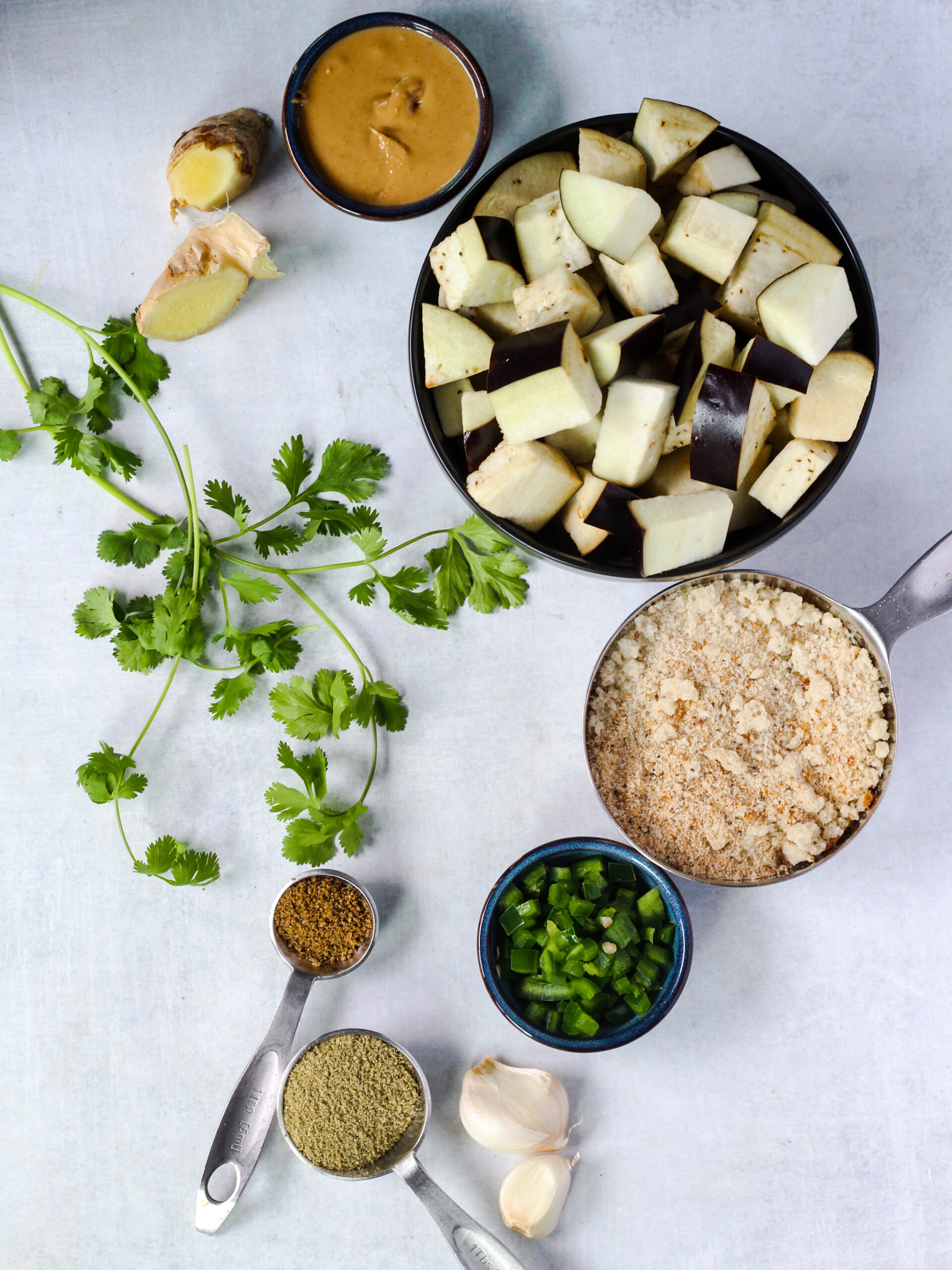 Vegan Eggplant Kofta in Coconut Korma
Spiced eggplant meatballs simmered in a coconut korma sauce
Ingredients
2

12.5 oz jars

Maya Kaimal Coconut Korma Simmer Sauce

2

lbs

eggplant

2-3 medium eggplant, diced into 1 inch cubes

1

cup

breadcrumbs

1

tbsp

ginger

grated, or 1/4 tsp ground ginger

1

tbsp

garlic

crushed, 3 large cloves

2

tbsp

jalapeno

finely diced, seeds removed for less heat

1/2

cup

cilantro

tightly packed

1/4

cup

cashew butter

or nut butter of choice

1

tsp

ground cumin

1

tbsp

ground coriander

1

tsp

salt

or to taste

1

package

Maya Kaimal Perfectly Plain Surekha Rice

for serving

2

tbsp

toasted coconut flakes

for garnish, optional
Instructions
Preheat oven to 375 degrees.

Heat 4 tablespoons of olive oil in a large skillet.

When hot add diced eggplant. Saute eggplant on medium heat for 8-10 minutes until the eggplant softens, and starts to caramelize.

Add diced jalapeno, garlic, ginger, salt, cumin, and coriander.

Saute on medium-low until the vegetables are cooked through, and spices have bloomed.

Remove from heat, and set aside to cool.

Once cool, place eggplant mixture in a food processor with cilantro and cashew butter. Pulse 3-4 times then scrape down the sides.

Add 1/3 cup of breadcrumbs, and pulse again. Repeat until the breadcrumbs are incorporated, and the kofta mixture comes together.

Before rolling out the kofta meatballs pour some oil out into a bowl, and coat hands to make forming the balls easier.

Use a large spoon or ice cream scoop to form the meatballs, and place on a baking sheet. Re-oil hands after every 2 meatballs. You will have around 16 meatballs.

Bake for 25-30 minutes until meatballs are golden brown and crispy on the outside. Set aside to cool for a few minutes before removing from tray.

Heat Coconut Korma Indian Simmer Sauce in a large skillet. Place eggplant kofta in sauce right before serving. Garnish with toasted coconut and chopped cilantro.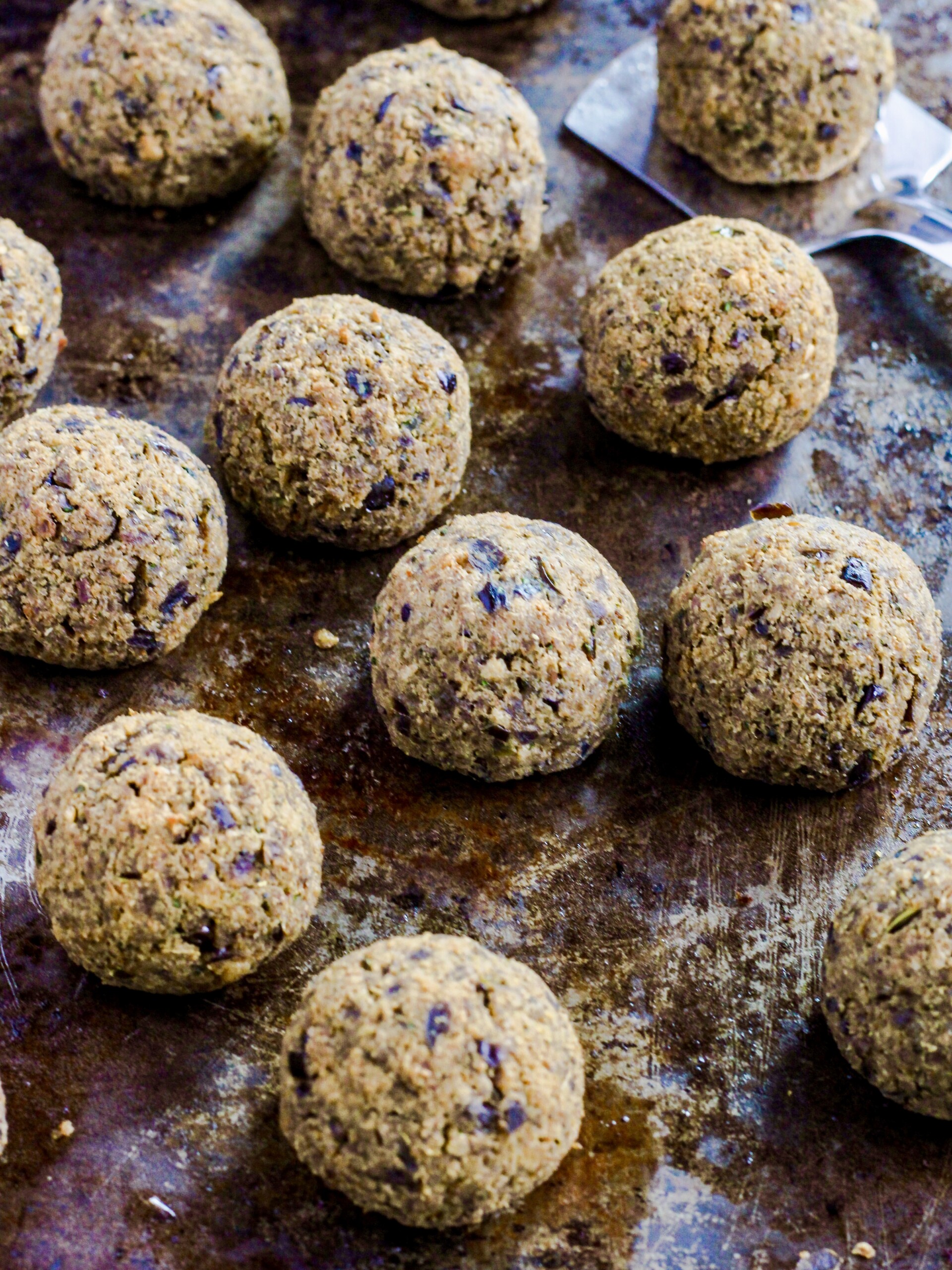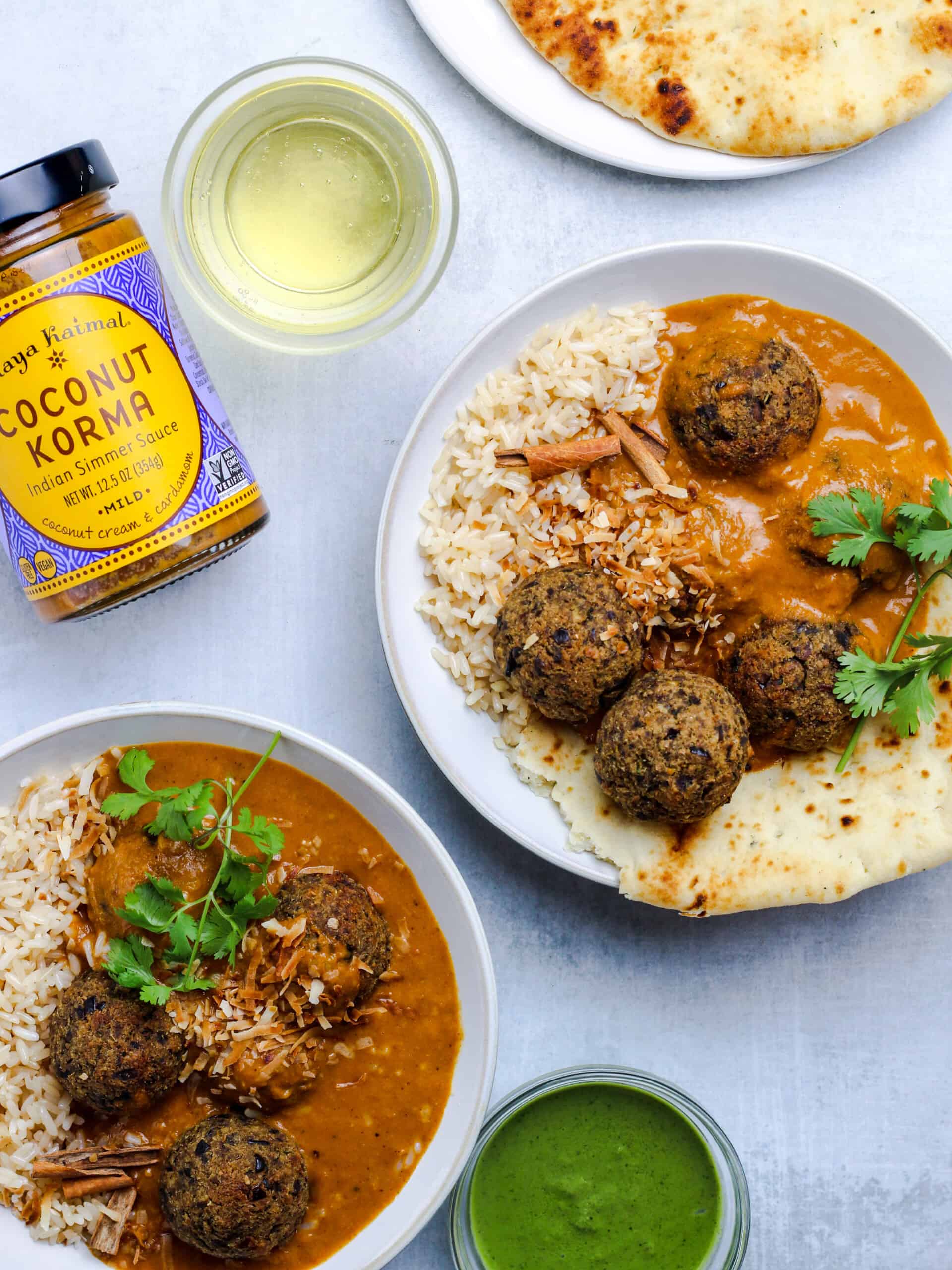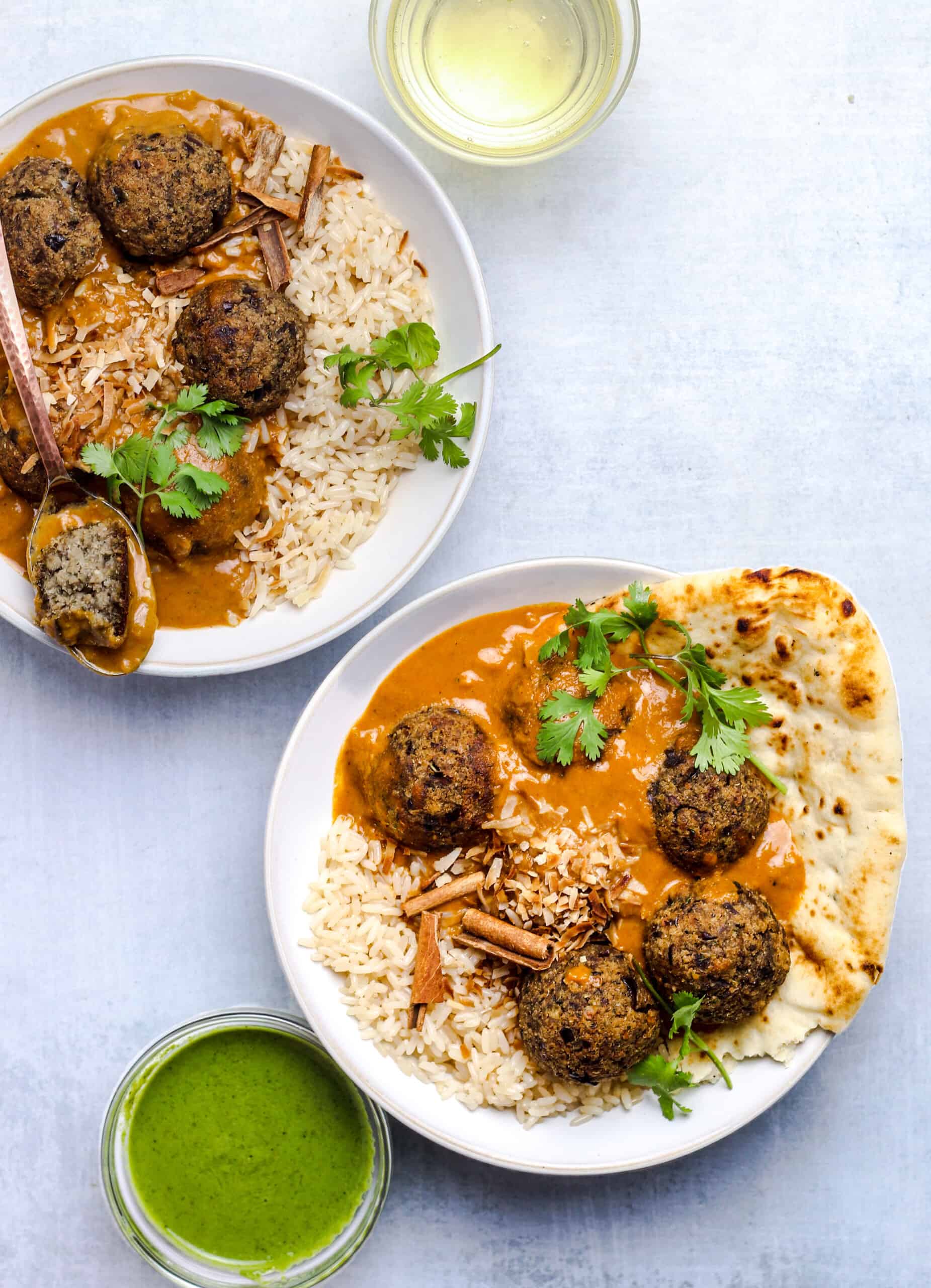 A huge thank you to Maya Kaimal Fine Indian Foods for sponsoring this post! Their story and taste is authentic, and restaurant quality.