Is it bad to crave take out on the daily?? No, but it's def not worth the calories, or day-after water retention from all that MSG. And stir fry is so fast at home! You probably have most of the ingredients in your pantry and fridge anyway!
I like to use a combo of:
Start by mixing sauces in a bowl. This way you can taste for spice and salt level before standing over a hot pan with burnt vegetables. I do 2 parts of soy sauce to 1 part hoisin and 1/2 part rice wine vinegar. Then add in chili-garlic paste (approximately 1 tablespoon) and Dijon (approximately 2 teaspoons) to taste . If you don't have hoisin you can substitute that with brown sugar to give your sauce that sweet, molasses taste.
Cook protein of choice. Brown in large pan with a tablespoon of oil, then push to one side.
Add veggies. Cruciferous vegetables work nicely in stir fry since they hold up to the high heat and spices. My favorites include cabbage, Brussels sprouts, broccoli, and bok choy. Don't forget to add color with snap peas, bell peppers, or shredded carrots. I buy pre-shredded vegetables or a stir-fry blend for weeknight meals like this Mann's Power Blend.
Add sauce, and "stir-fry" on medium-high.
Adjust your seasonings, and sprinkle with a few squirts of toasted sesame oil or Chinese five spice to give it that little something extra.
Serve with soba noodles, brown rice, or quinoa.
Now you're set for quick, and healthy stir fry!
---
Tips
Saute the hearty vegetables on medium-high heat, then add in peppers, greens, etc.
After adding your homemade sauce, and vegetables and meat are coated you can add a little water or stock to create more sauce.
You can thicken the sauce with 1-2 teaspoons of cornstarch or arrowroot powder.
For shrimp: season with sauce and saute for 2 minutes on each side or until opaque. Remove from pan, and add to stir fry towards the very end.
For tofu: drain from water, and place between a few paper towels or in a strainer for at least 30 minutes. Then season and saute or bake until crispy. Add to pan towards the very end.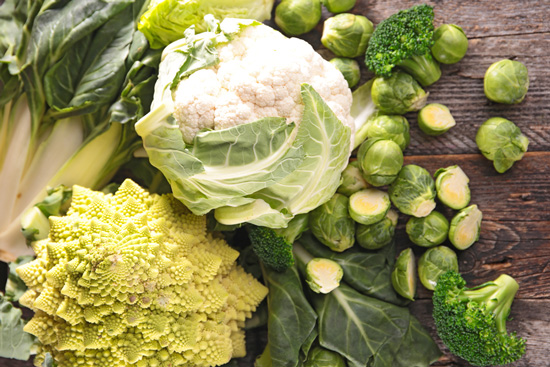 Photo: https://www.fruitsandveggiesmorematters.org/understanding-benefits-of-cruciferous-vegetables/