Want to know how to make the easiest fig flatbread ever? Start by getting high quality ingredients—Gilbert's Craft Sausages just released their Fig and Feta Chicken Sausage, and it's amazing, then add fresh ingredients like arugula, pears, caramelized onion, and fig preserves. Trust me when I tell you that you will end up with a delicious and stunning flatbread that will be a regular in your dinner rotation!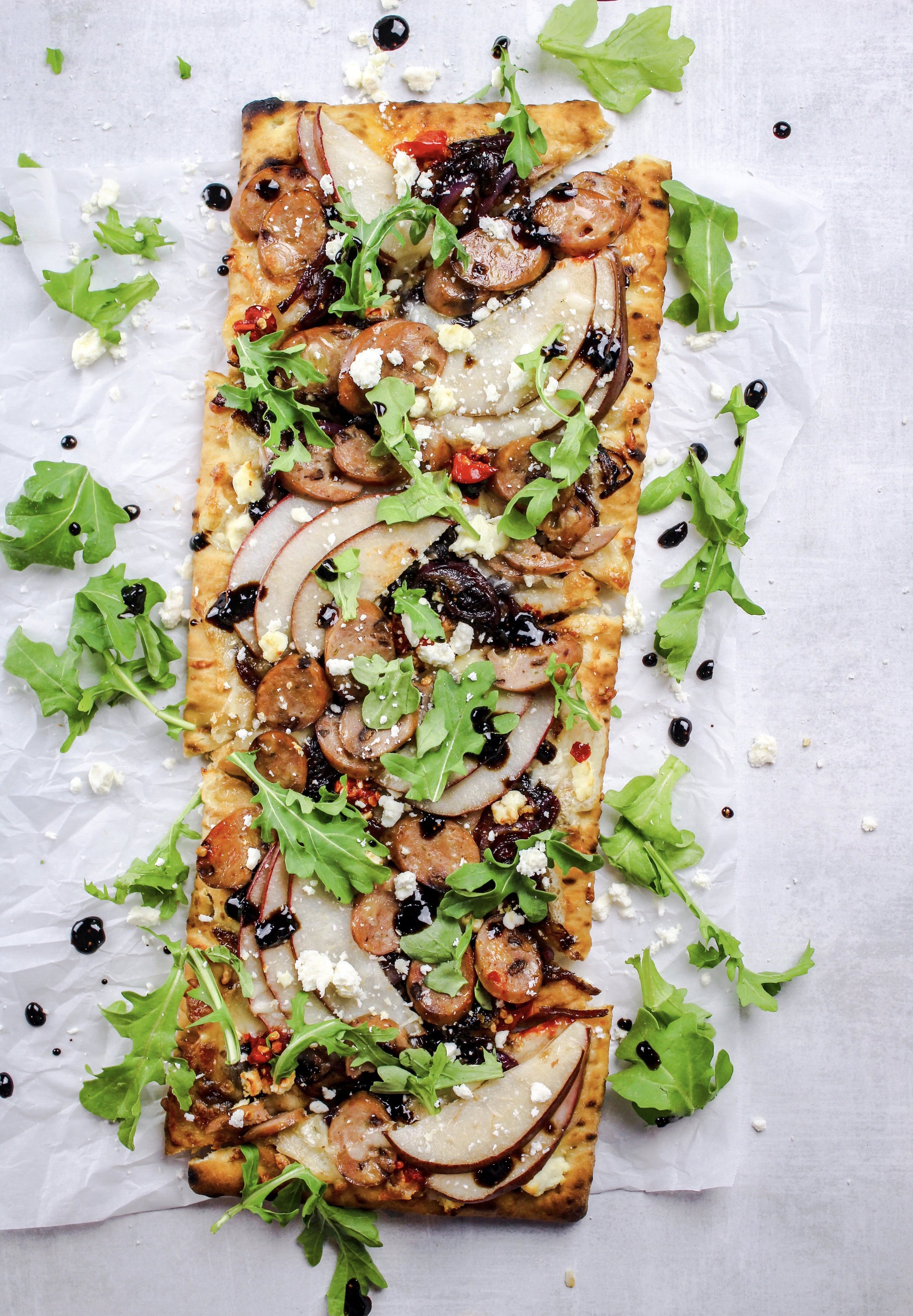 I know there are a lot of recipes out there for fig flatbread…search the web and you will find fig and prosciutto, fig and arugula, fig and balsamic, fig and pear, or a combination of any of these. So what's the big deal about my recipe? It's minimal work for maximum flavor! I use Gilbert's newest addition of chicken sausage (Fig and Feta) and it makes the prettiest and tastiest flatbread. Not to mention it's really darn easy! You don't even have to wait until figs are in season; I use fig jam to really amp up the flavor for this pizza.
Gilbert's Craft Sausages are a household staple for us because they are all natural, the chicken is not raised with antibiotics, they don't contain nitrates, nitrites, or artificial ingredients (including dyes!). Plus they have so a variety so you can make so many different cuisines. Oh, and they are individually wrapped to maintain freshness, and you can microwave them right in the packaging. How convenient is that?! So let's get to this recipe, shall we?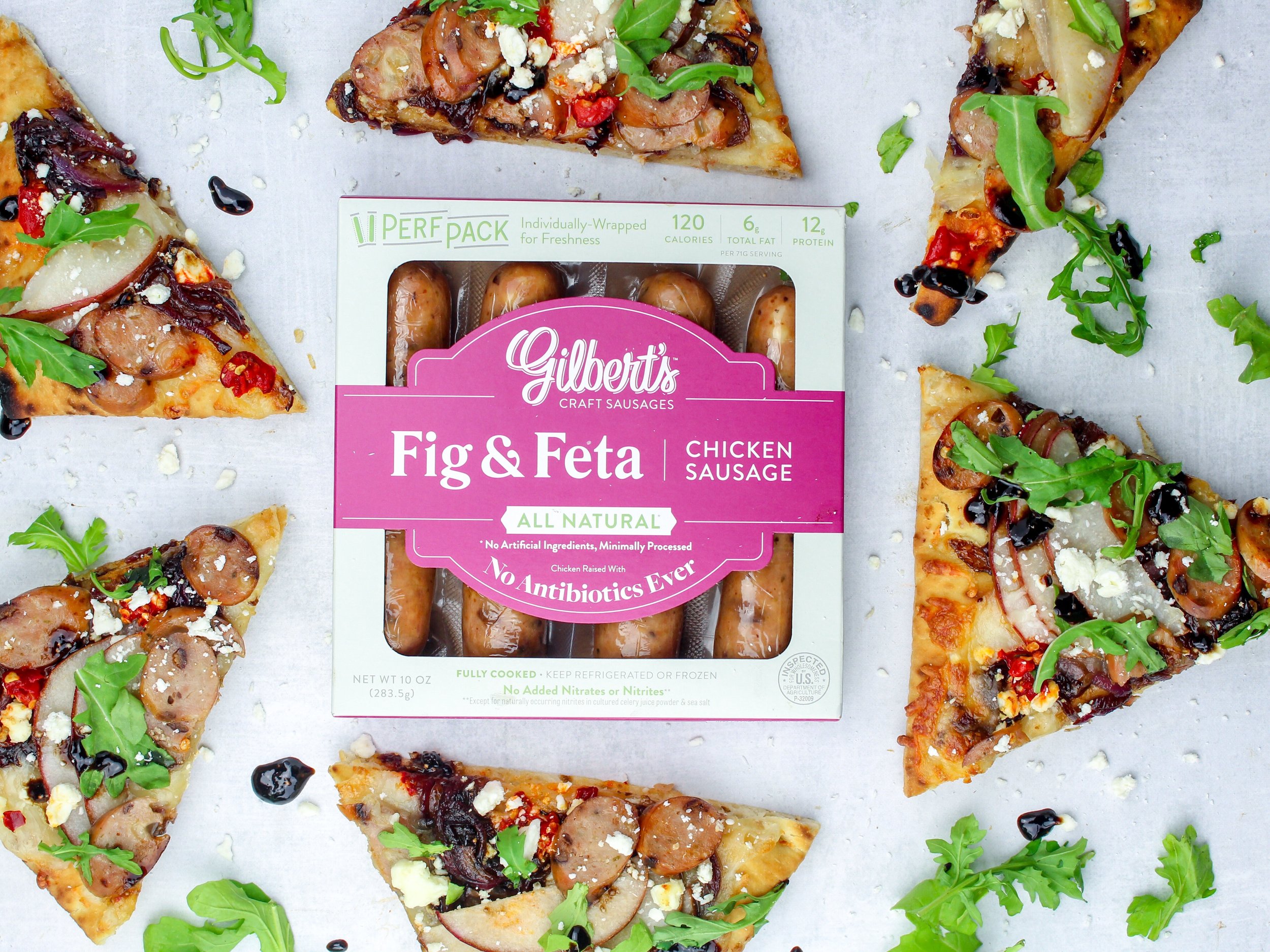 Ingredients
Flatbread
1 package Gilbert's Fig and Feta Chicken Sausage

2 store bought or homemade pizza crusts (about 15 oz.)

1 large red onion, thinly sliced

1 cup of baby arugula

1 Bosc pear, thinly sliced

4 oz feta cheese, crumbled

1 cup mozzarella cheese, shredded

salt to taste

red chili flakes, optional
Fig Balsamic Glaze
1/2 cup balsamic vinegar

2 tablespoons fig jam

pinch of salt
Start out by making the caramelized onions. Heat 1 tablespoon of oil, and 1/2 tablespoon of butter (optional) in a saute pan. Add sliced onion and 1/4 tsp of salt. Cook on medium until onions are golden brown and soft. Stir frequently to prevent the onions from burning. This can take up to 20 minutes.
To make the fig balsamic glaze place basalmic vinegar and fig jam in a pot. Simmer on medium-low heat until the liquid as reduced by about 1/3. You will know when the glaze is done if it coats the back of a spoon. Add a pinch of salt. The glaze will thicken as it cools so If you end up over-reducing the glaze don't worry! You can add a little bit of water and reheat to get a nice syrupy consistency.
Preheat oven to 400 degrees. Remove sausages from packaging and cut into thin slices. Prepare crusts as directed on package. If using premade crusts and want a crispier flatbread then place the crusts in the oven for a few minutes to crisp before adding the toppings. Brush the crusts with a very thin layer of oil. Add two teaspoons fig balsamic glaze to the caramelized onions, and mix until the onions are coated evenly. Evenly distribute the caramelized onions with fig balsamic on the crusts. Add mozzarella cheese, sliced pears, and sliced chicken sausage.
Place each flatbread in oven for 10 minutes until cheese is melted and sausages have cooked through. Remove from oven and top with arugula, feta cheese, and more fig balsamic.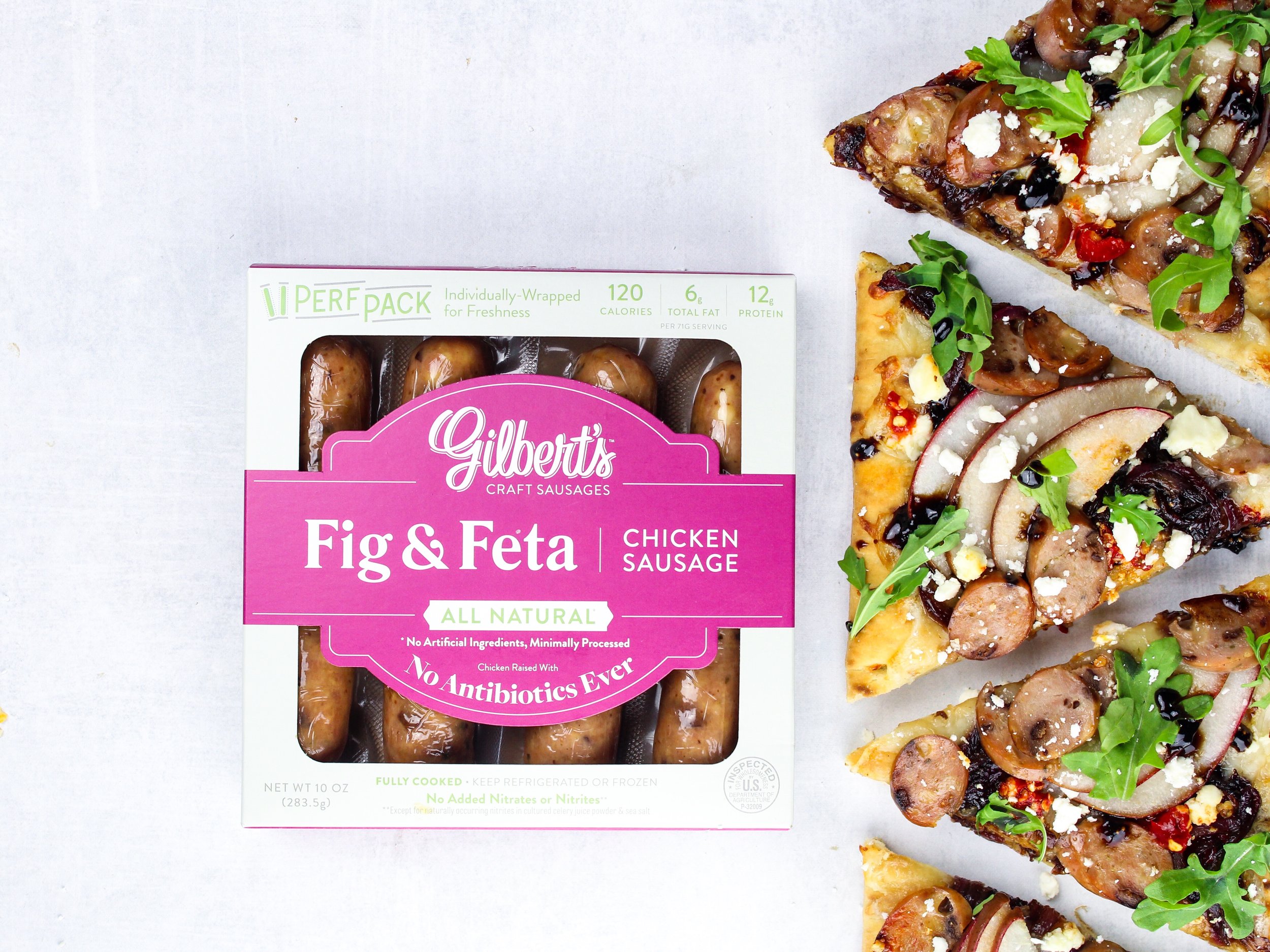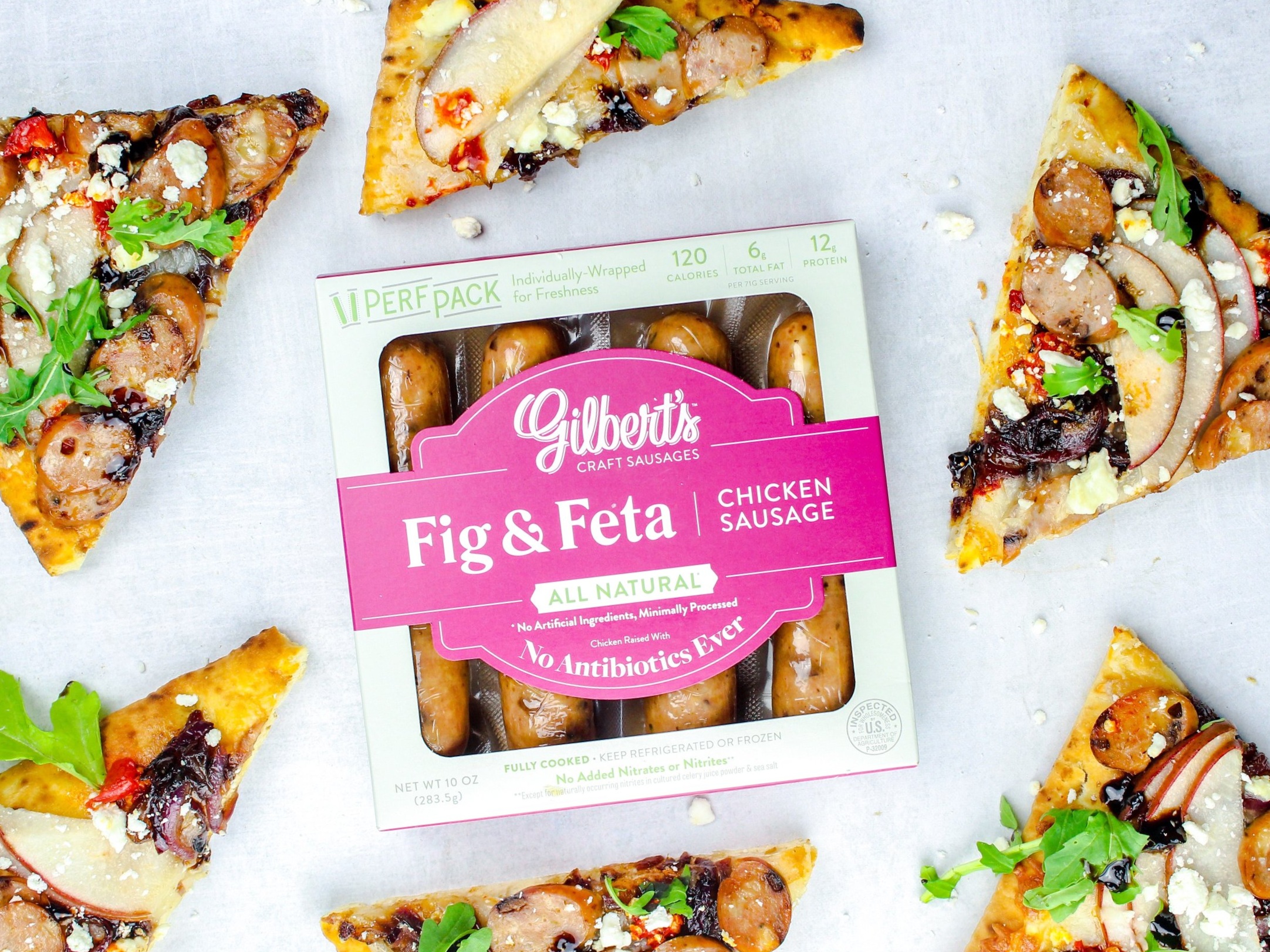 ---
Tips
I usually get Dalmatia or Divina brand of fig jam

The crusts used here are Brooklyn Bred, but you can use any brand or even naan!

In place of crushed red pepper flakes you can also use chopped calabrian chilis packed in oil.

Any type of pears will work here
This post is sponsored by Gilbert's Craft Sausages. Their story behind making high quality packaged sausages is heart-warming and authentic. Read more here .