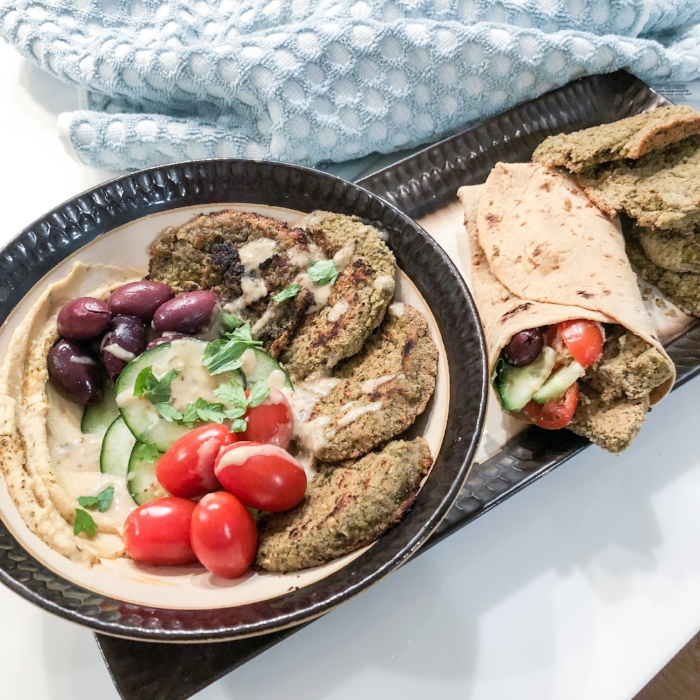 This recipe happened by accident. I had a craving for falafel at home, and started boiling what I thought were green lentils (skip to the end for substitutions), and let it go to town. A few minutes later realized that I just started boiling a ton of mung beans! They were split, and in dim lighting-I usually cook after Shay sleeps so turn off most of the lights-looked like green lentils.
Well, as we all know, WASTE NOT!
Ingredients
2 cups mung beans/daal
4 cloves garlic
1 small jalapeño
2 handfuls parsley
2 handfuls cilantro
3 tbsp lemon juice
2 tsp salt
2 tsp oregano
3 tbsp oil
4 tbsp flour
1 tsp baking powder
Preheat often to 350 degrees. Boil mung beans (in approx 4 cups of water) until they are just cooked. You don't want the skins coming off of the beans, and they will be slightly firm. Overcooking them will give you a softer texture, and we want these to be crunchy liked traditional fried falafel.
After the beans are finished cooking drain any excess water, and cool. Then place all ingredients except flour in a food processor and pulse. Slowly add in up to 4 tablespoons of flour to help bind mixture. The mixture should be thick and come together in a ball.
Liberally grease baking sheet with oil, and start forming falafel balls! I use an ice cream scoop to keep it consistent. You can leave the falafel round, or flatten them into patties. Flattening them gives more surface area to crunchify!
Bake for at least 30 minutes until lightly browned. Flip about 20 min through.
Combine with whatever toppings your heart desires!
I used store bought wraps, hummus, and organic tahini dressing.
Other suggestions: spinach, quinoa, picked jalapeno, green onion, sunflower seeds, feta cheese. Go crazy people!
Mung beans are in the same family as lentils, and are a high source of protein, fiber, antioxidants! They are also easily digested compared to other beans/daals.
---
Tips
Make falafel ahead of time, and re-crisp in a saute pan/oven before devouring. I baked them the night before.
Recipe should work for green lentils (boil until cooked through but firm) and canned chickpeas which you will just drain and rinse!