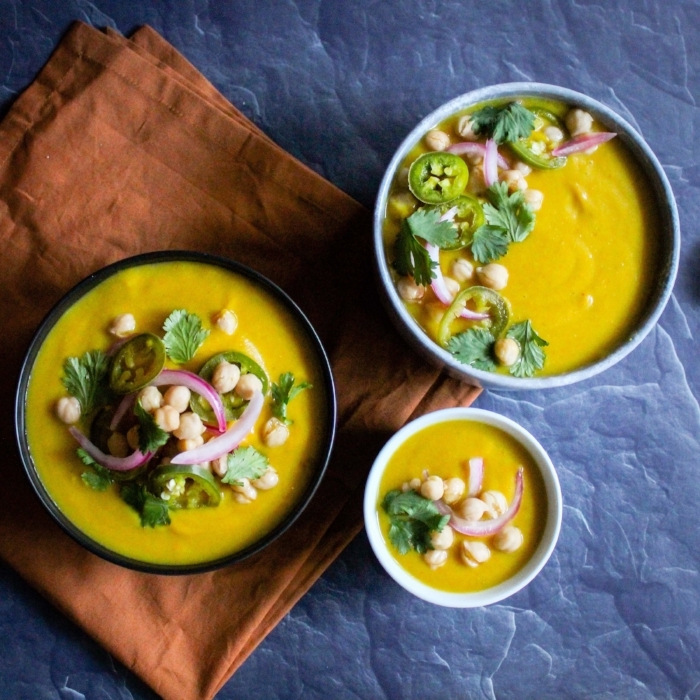 This is my first recipe post as Mom Under Pressure, and I think you will love it! I wanted to make an Indian dish, but something easier and much faster! I turned a classic dish Aloo Gobi (cauliflower and potatoes) into a healthy, low-carb soup! It's creamy, spicy, full of flavor and super foods!
Ingredients
Curried Cauliflower Soup
1 medium head cauliflower
3 carrots
3 celery stalks
4 large garlic cloves
1 inch ginger
2 tsp salt
1 tsp cumin seeds or cumin powder
‪1 tsp turmeric ‬
1/2 tsp red chili powder
2 tsp coriander powder
1 tbsp coconut oil
4 cups broth
2 cups unsweetened almond milk
Pickled Chickpea Salad
1 c water
1 c apple cider vinegar
1 tbsp sugar
2 tsp salt
1/2 red onion thinly sliced
1 large jalapeno thinly sliced
1 can chickpeas/garbanzo beans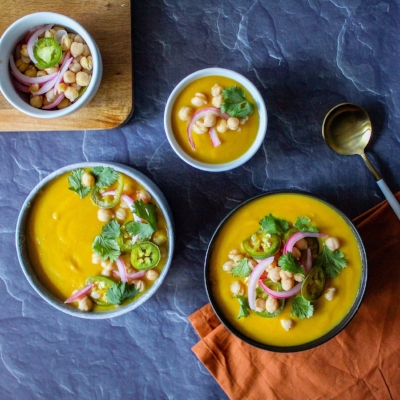 Rough chop vegetables for soup. Turn Instant Pot on Saute mode. Heat 1 tbsp coconut oil, and then add vegetables with salt and spices. You can also add the celery leaves bc they give more flavor! Saute for 3-5 minutes until fragrant. Add 2 cups of broth. Cancel Saute mode, and switch to Manual. Manual cook for 13 minutes. It doesn't matter whether you quick release or natural pressure release (NPR). The vegetables should all be soft at this point. Use an immersion blender to puree the vegetable and spice mixture. You can also blend the vegetables in a food processor or blender i.e. Ninja (may have to be done in batches with a little extra liquid), and transfer back to the Instant Pot. Add remaining 2 cups of broth and almond milk. Stir or blend again to combine, and heat on Saute mode until simmering. Adjust salt and spice if necessary.
While the soup is cooking you can make a quick pickled chickpea topping! Place rinsed and drained chickpeas, sliced onion, and jalapeno in a glass jar or heat proof bowl. In a small pot boil 1 cup of water, 1 cup of apple cider vinegar, sugar, and salt. Remove from heat and pour over beans, onion, and jalapeno pepper. Let stand for at least 10 minutes. Top soup with salad and cilantro. Bon appetit!